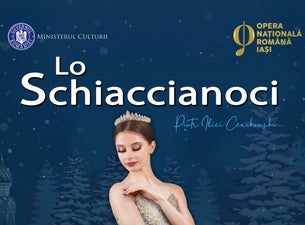 Ballet & Dance
Lo Schiaccianoci Tickets
Events
12/16/23

Brescia

Gran Teatro Morato

Lo Schiaccianoci - Balletto di Mosca

12/22/23

Padua

Gran Teatro GEOX

Lo Schiaccianoci - Teatro Nazionale dell'Opera Rumena di Iasi
About
The ballet The Nutcracker is based on Hoffmann's fairy tale and follows the adventure of Clara, who, during a battle with the Mouse King, destroys the spell and transforms the Nutcracker into a prince. Tchaikovsky's music, immortalises this fairytale and stimulates the imagination.Celebrated for its elegant choreography, charming music and sumptuous costumes the Nutcracker has become a classic of Christmas performances around the world, capturing the audience's imagination with its beauty and timeless magic.


The Romanian National Opera of Iași (ONRI) has a rich history in the world of dance, dating back over six decades with the first complete performance of Leo Delibes' ballet Coppelia in 1958. Over the years, it has hosted world-renowned Romanian and international dancers in its performances, consolidating its position in the dance world. Today, the ONRI has opened its doors to talent from all over the world, enriching its artistic heritage and demonstrating the importance of dance in the cultural landscape of Iași and beyond.

The Russian Classical Ballet directed by Evgeniya Bespalova aims, since its foundation in 2005 in the city of Moscow, to fully preserve the tradition of Russian classical ballet. The company is made up of a cast of dancers graduated from the most prestigious choreographic schools: Moscow, St. Petersburg, Novosibirsk, Perm; corps de ballet and soloists, coming from the main Russian companies, give body to this ensemble, in which academic preparation and international experience are combined with the irreverence of emerging talents in the panorama of Moscow classical ballet.