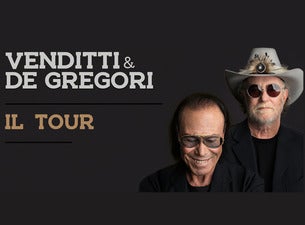 World
Antonello Venditti Tickets
Events
6/5/23

Rome

Terme di Caracalla

Venditti e De Gregori Il Tour

6/7/23

Rome

Terme di Caracalla

Venditti e De Gregori Il Tour

8/24/23

Syracuse

Teatro Greco - Siracusa

Venditti e De Gregori Il Tour

Venue

Teatro Greco - Siracusa

8/28/23

Taormina

Teatro Antico - Taormina

Venditti & De Gregori Il Tour

Venue

Teatro Antico - Taormina
About
Antonello Venditti is one of the main Italian songwriter and singer known all over the world. Since his debut in 1971 Venditti is one of the most important artists of the Scuola Romana with more than 30 million copies sold.

Antonello Venditti achieved the fame in 1975 with the album Lilly reaching the top of the hit-parade thanks to songs like Lo Stambecco Ferito and the homonymous Lilly.

Among the most important songs of Antonello Venditti we can recall Sara and Sotto il segno dei pesci featured in the album Sotto il segno dei pesci of 1978, Notte Prima degli Esami from Cuore of 1984, Ricordati di Me from In Questo Mondo di Ladri of 1988 and Amici Mai included in Benvenuti in Paradiso of 1991.

Antonello Venditti is also an important author for artists like Mia Martini, Milva, Michele Zarrillo and Raffaella Carrà.