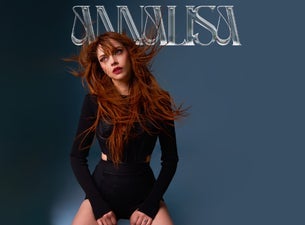 Events
4/8/24

Turin

Pala Alpitour

Annalisa - Tutti nel Vortice Palasport

4/13/24

Naples

Palapartenope

Annalisa - Tutti nel Vortice Palasport

4/17/24

Casalecchio di Reno

Unipol Arena

Annalisa - Tutti nel Vortice Palasport

4/24/24

Padua

Kioene Arena

Annalisa - Tutti nel Vortice Palasport

4/29/24

Assago

Mediolanum Forum

Annalisa - Tutti nel Vortice Palasport

5/4/24

Verona

Arena di Verona

UNA NESSUNA CENTOMILA in Arena

5/5/24

Verona

Arena di Verona

UNA NESSUNA CENTOMILA in Arena
About
Annalisa, with 19 platinum records and 12 gold records, is one of the most important singer-songwriters on the Italian scene. At the moment she has released 7 albums, has 500 million views of videos, television broadcasts and collaborations, both Italian and international, such as Dua Lipa and David Guetta.

Annalisa participated in Amici di Maria De Filippi, finishing second, and in 2011 she released her debut album, Nali. Two years later he participated in the Sanremo Music Festival with the song Scintille.

In 2015 Annalisa finished fourth with the song Una finestra tra le stelle and in 2018 third with the song Il mondo prima di te, which anticipates the album Bye Bye, certified platinum. Bye Bye achieved many successes and affirmed her as the only female artist to collect certifications for every single extract from the album.

Between 2019 and 2020 follow the singles Vento sulla luna with Rkomi, Houseparty and Tsunami, which anticipated the album Nuda. In 2021 Annalisa took part in the Sanremo Music Festival with the song Dieci, certified double platinum, and released the deluxe version of the album Nuda, Nuda 10, platinum. In the summer of the same year, Annalisa released the single Movimento lento featuring Federico Rossi, certified double platinum.

In 2022 Annalisa released with Boomdabash the summer hit Tropicana, which won the top of the sales chart and airplay radio and was certified platinum.

Annalisa's final single, Bellissima, was released on 2 September 2022.