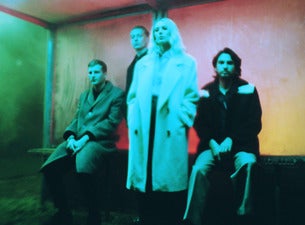 Alternative/Indie Rock
Wolf Alice Tickets
Events
Sorry... there are currently no upcoming events.
About
Wolf Alice is a British alternative rock band formed in 2010 in London, consisting of Ellie Rowsell (vocals, guitar, keyboard, synthesizer), Joff Oddie (guitar, violin, synthesizer, vocals), Theo Ellis (bass, synthesizer, vocals) and Joel Amey (drums, synthesizer, vocals).

Wolf Alice's debut single was Fluffy in 2013, while the EP Blush was released in October of the same year. The second EP Creature Songs was released the following year.

In February 2015, the group released the single Giant Peach, taken from their debut album My Love Is Cool. The album reached the second position on the Official Albums Chart and the group was nominated for the 2015 Mercury Award.

As part of the 2016 Grammy Awards, the band received a nomination in the Best Rock Performance category for the song Moaning Lisa Smile. In addition, Wolf Alice received a nomination at the 2016 BRIT Awards for Best Revealing Artist/Group and six nominations at the 2016 NME Awards, winning two of them for Best Live Band and Best Track.

The band's second studio album is Visions of a Life, which won the 2018 Mercury Prize, a prestigious award given to the best British album of the previous year.

Wolf Alice's latest album is Blue Weekend, released in June 2021.