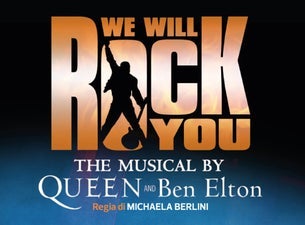 Musical
Biglietti per We Will Rock You
Eventi
15/04/23

Brescia

Gran Teatro Morato

We Will Rock You

Luogo dell'evento

Gran Teatro Morato
Eventi internazionali
40 eventi
31/03/23

Herning, Danimarca

MCH Herning Kongrescenter

SPISNING - 31. MARTS 2023

31/03/23

Herning, Danimarca

MCH Herning, Teatersalen

We Will Rock You - Premiere - FÅ BILLETTER

01/04/23

Herning, Danimarca

MCH Herning Kongrescenter

SPISNING - 1. APRIL 2023

01/04/23

Herning, Danimarca

MCH Herning, Teatersalen

We Will Rock You

01/04/23

Herning, Danimarca

MCH Herning Kongrescenter

WE WILL ROCK YOU - NEM PAUSE

03/04/23

Herning, Danimarca

MCH Herning Kongrescenter

SPISNING - 3. APRIL 2023

03/04/23

Herning, Danimarca

MCH Herning, Teatersalen

We Will Rock You

03/04/23

Herning, Danimarca

MCH Herning Kongrescenter

WE WILL ROCK YOU - NEM PAUSE

04/04/23

Herning, Danimarca

MCH Herning Kongrescenter

SPISNING - 4. APRIL 2023

04/04/23

Herning, Danimarca

MCH Herning, Teatersalen

We Will Rock You

04/04/23

Herning, Danimarca

MCH Herning Kongrescenter

WE WILL ROCK YOU - NEM PAUSE

05/04/23

Herning, Danimarca

MCH Herning Kongrescenter

SPISNING - 5. APRIL 2023

05/04/23

Herning, Danimarca

MCH Herning, Teatersalen

We Will Rock You

05/04/23

Herning, Danimarca

MCH Herning Kongrescenter

WE WILL ROCK YOU - NEM PAUSE

11/04/23

Herning, Danimarca

MCH Herning Kongrescenter

SPISNING - 11. APRIL 2023

11/04/23

Herning, Danimarca

MCH Herning, Teatersalen

We Will Rock You

11/04/23

Herning, Danimarca

MCH Herning Kongrescenter

TIRSDAG 11. APRIL 2023 - NEM PAUSE

13/04/23

Herning, Danimarca

MCH Herning Kongrescenter

WE WILL ROCK YOU - NEM PAUSE

13/04/23

Herning, Danimarca

MCH Herning, Teatersalen

We Will Rock You
Informazioni
Gli spettacoli di We Will Rock You previsti dal 17 al 22 marzo 2020 al Teatro Arcimboldi di Milano e in seguito spostati dal 5 al 10 maggio 2020 e al 13 al 23 gennaio 2022 al Teatro Nazionale CheBanca! Di Milano sono stati riprogrammati dal 2 al 12 febbraio 2023 presso lo stesso luogo dell'evento. I biglietti precedentemente acquistati rimangono validi per le nuove date corrispondenti. Per ulteriori informazioni, LEGGI QUI
Diretta da Michaela Berlini, la nuova edizione del musical è basata sullo spettacolo originale scritto e prodotto da Ben Elton, in collaborazione con Roger Taylor e Brian May. Le musiche e le canzoni sono quelle originali, cantate in lingua inglese ed eseguite rigorosamente dal vivo da un'eccezionale band formatasi per l'occasione.
I protagonisti di "We Will Rock You – the Musical" sono Galileo e Scaramouche, due giovani arrabbiati e affamati di verità ed emozioni vere. Il Rock And Roll consente a Galileo e Scaramouche di esprimersi realmente e di comprendere l'importanza della condivisione. Galileo Scaramouche e I Bohemians ci ricordano, nelle parole di Claudio Trotta, che "il Futuro Non è Scritto, il Futuro Dipende Da Tutti Noi".
L'attenta rivisitazione e traduzione del testo originale ad opera di Raffaella Rolla fanno emergere temi attuali il bullismo, l'istruzione, il riscaldamento globale e l'oppressiva presenza quotidiana della rete nella vita di tutti.
Non perdere la grande rock opera con i successi dei Queen!
Questo evento è organizzato da: Barley Arts Srl