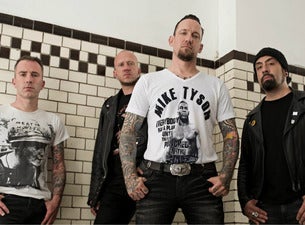 Hard Rock/Metal
Volbeat Tickets
Events
Sorry... there are currently no upcoming events.
About
In compliance with the medical emergency set to prevent COVID-19 from spreading, the Volbeat concert scheduled on July, 2 2020 at Ippodromo delle Campanelle in Rome has been cancelled. For further information, please READ HERE
Volbeat is a Copenaghen-native metal band active since 2001. The group members are Michael Poulsen (guitar, vocals), Rob Caggiano (guitar), Kaspar Boye Larsen (bass) and Jon Larsen (drums).
Volbeat's world tour is named after the band's seventh studio album "Rewind, Replay, Rebound", which came out on August, 2 2019 and was preceded by the lead single "Leviathan." On "Rewind, Replay, Rebound", Volbeat have polished a distinctive, psychobilly, punk and rock 'n' roll sound, continuing the work carried out on their previous albums.
"Rewind, Replay, Rebound" was inspired by the band members' experiences and lives. For instance, "Last Day Under The Sun" took inspiration from a Johnny Cash biography. "When We Were Kids" talks about naivety, eternity and youth, while "Rewind the Exit" and "Die To Live" reflect on the idle and deceptive quest for perfection.
In November 2019, Volbeat released the music video for "Die To Live" featuring Neil Fallon directed by Adam Rothlein. Clutch Neil Fallon singer, Raynier Jacob Jacildo and Doug Corcoran from JD McPherson worked on both the record and the music video.
Volbeat were Metallica's, Motorhead's and Slipknot's opening act. In 2014, Volbeat won several Danish Music Awards and were nominated for the Grammy Award for Best Metal Performance for "Room 24."
Volbeat's previous album "Seal The Deal & Let's Boogie" debuted at #1 in seven countries: Germany, Denmark, Sweden, Finland, Belgium, Austria and Switzerland.