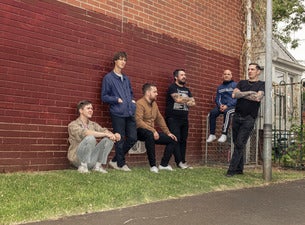 Others - Music
Viagra Boys Tickets
Events
Sorry... there are currently no upcoming events.
About
Viagra Boys is a Swedish post-punk music group founded in Stockholm in 2015, consisting of Sebastian Murphy (vocals), Oskar Carls (saxophone), Henrik Höckert (bass) and Tor Sjödén (drums).

The band's name was created with the purpose of ironically representing the misogynistic and masculine concept of masculinity. The band makes fun of social conventions and deals with themes such as the celebration of sports and physical strength, acceptance in society, and substance addictions.

Viagra Boys' debut album was Street Worms, which followed the band's first EPs Consistency of Energy and Call of the Wild. Viagra Boys' latest album was Welfare Jazz, released in 2021.

Don't miss Viagra Boys' powerful post-punk music live!