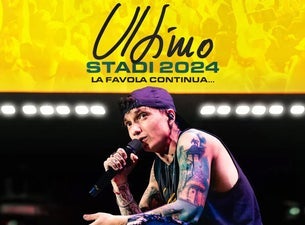 Events
7/6/24

Padua

Stadio Euganeo

Ultimo
About
Ultimo, stage name of Niccolò Moriconi, is an Italian songwriter born in Rome.

After being part of the indipendent music scene of Rome, Ultimo achieved the fame with the song Il Ballo delle Incertezze in the category Nuove Proposte at Sanremo Music Festival of 2018 where the artist ranked fourth and won the Lunezia Award.

Sanremo Music Festival was followed by the album Peter Pan of 2018 certified five times platinum record thanks to songs like Poesia Senza Veli, Cascare Nei Tuoi Occhi and Ti Dedico Il Silenzio.

In 2019 Ultimo returned to Sanremo Music Festival with I Tuoi Particolari ranking second. In the same year the artist released the album Colpa Delle Favole which has sold more than 30 million copies in the first week and become the best selling Italian album of the year.

The latest works of Ultimo are the songs Vieni Nel Mio Cuore and Ti Va di Stare Bene released in 2022. In 2023 the artist will be part of Sanremo Music Festival 2023.

In 2022 Ultimo released the songs Vieni Nel Mio Cuore e Ti Va di Stare Bene. In 2023, the artist takes part in the Sanremo Festival 2023, finishing in 4th place with the song Alba

In February 2023 he released Alba, his new album named after the song he took to the Sanremo Festival 2023.