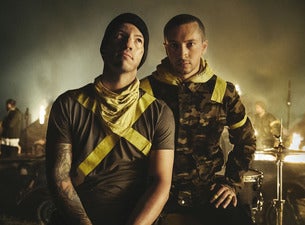 Rock/Pop
Twenty One Pilots Tickets
Events
Italy
There are no upcoming events in Italy
Don't worry, there are other events available below
International Events
4 Events
7/6/2022

Madrid, Spain

Espacio Mad Cool

Mad Cool Festival 2022 - Miércoles Día 6

Madrid, Spain

Espacio Mad Cool

Mad Cool Festival 2021 - Entradas VIP

Madrid, Spain

Espacio Mad Cool

Mad Cool Festival 2022 - Abono 3 días

Madrid, Spain

Espacio Mad Cool

Mad Cool Festival 2022 - Abono 4 días
About
After the sold-out concert at the Unipol Arena in Bologna on 21 February 2019, the Twenty One Pilots were the headliners of Milano Rocks on August, 31 2019.

Twenty One Pilots is the Ohio-born duo made of the singer, keyboardist and bassist Tyler Joseph and the drummer Josh Dun.

Twenty One Pilots rose to prominence with the album "Blurryface", containing the hits "Tear In My Heart" (2-time Platinum), "Ride" (7-time Platinum) and "Stressed Out." The latter won the Grammy Award for "Best Pop Duo/Group Performance."

"Blurryface" is the only album in American rock music history to feature all certified Gold tracks. In Italy, "Stressed Out" is 4-time certified Platinum and "Ride" went Platinum 3 times.

With "Heathens", part of the soundtrack of the movie "Suicide Squad" and "Ride", Twenty One Pilots broke another record: they became the third rock band in the Billboard's Hot 100 58-year history to simultaneously have two singles in the top 5. The artists who had previously achieved this feat were The Beatles and Elvis Presley.

"Trench", released on July, 9 2018, became the duo's best-selling album in its release week with over 175,000 copies sold in the United States and over 285,000 worldwide. With more than 52 million streams, "Trench" is also the most listened rock album in its release week.

From "Trench" the singles "Jumpsuit", "Nico and the Niners", "Levitate", "My Blood" and "Chlorine" were extracted.