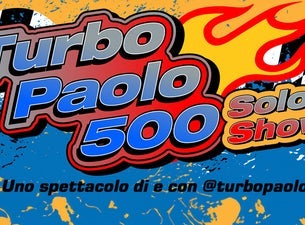 Comedy - Arts & Theater
Turbopaolo Tickets
Events
Sorry... there are currently no upcoming events.
About
TurboPaolo, whose real name is Paolo Sarmenghi, is a comedian known for his hilarious online content.

Born in Novara in 1990, and a lawyer by profession, TurboPaolo in recent years has gained popularity on social platforms reaching 172 thousand followers on TikTok and 198 thousand on Instagram.

TurboPaolo's journey into the world of comedy began when he first saw the genie of the lamp in the Aladdin cartoon, voiced in Italian by Gigi Proietti, and thought that when he grew up he wanted to be charismatic and witty like him. He pursued his passion for comedy during his high school years by taking drama class and creating funny videos on Facebook.

His comedy is based on scenes from everyday life, often the character he plays is an ordinary person or someone everyone has met at least once in their life. His points of reference in the world of comedy include names such as Valerio Lundini, Max Angioni, Edoardo Ferrario, and Luca Ravenna, and then the Americans Trevor Wallace and Bruce Schulz.

Turbopaolo is beginning to expand his comedy career by exploring opportunities in live shows and television.