Hip-hop/R&B
Tredici Pietro Tickets
Events
We're sorry, but we couldn't find any events
Experience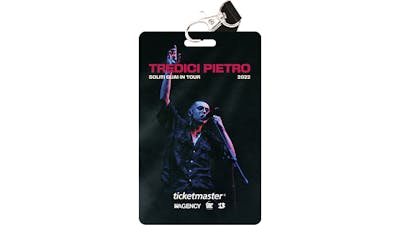 The exclusive Collector Ticket for the Tredici Pietro tour
For all the shows of Tredici Pietro's Soliti Guai in Tour 2022 is available the Collector Ticket, a collectible souvenir ticket for real fans.
Find Tickets
About
Tredici Pietro and the concerts of Soliti Guai in Tour 2022

Tredici Pietro will perform 3 concerts in Bologna, Rome and Milan in September and October 2022:
·       29 September 2022 - Locomotiv Club, Bologna
·       2 October 2022 - Largo Venue, Rome
·       4 October 2022 - Santeria Toscana, Milan
Pietro Morandi, aka Tredici Pietro, is an Italian rapper from Bologna.
Pietro Morandi is the son of Gianni Morandi and since childhood he has been approaching music and especially rap.
On 15 June 2018, his first single Pizza e fichi was released, followed by the tracks Piccolo Pietro, Rick e Morty and Passaporto, all produced by Mr. Monkey.
Tredici Pietro's first studio album is Assurdo, released in June 2019 and containing seven tracks including a featuring with Madame for the single Farabutto.
Tredici Pietro collaborates in 2020 with Psychologists for the track Clothes of Hate, and then renewed the fellowship on the duo's album entitled Millennium Bug, appearing on the single Funeral.
Tredici Pietro's second studio album is X questa notte, released on 21 April 2021 and consisting of seven tracks including features by Mecna, Nayt and Giaime.
On 22 April 2022, Tredici Pietro released Solito posto, soliti guai, a re-release of his previous album containing three new tracks.