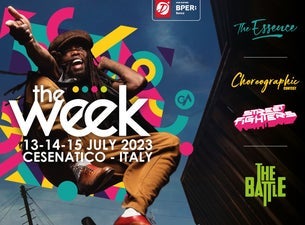 Music Festival
The Week Tickets
Events
Sorry... there are currently no upcoming events.
About
There is great expectation around The Week, which places Cesenatico as the gravitational center of Street Dance from 13 to 15 July 2023

It will be a The Week dedicated to the absolute Show, which will involve the alleys and beaches of Sounds, Colors and Positive Vibrations.

The program of The Week 2023:


THE ESSENCE

Thursday 13 July - h 8.30pm @ Teatro Comunale Cesenatico

THE ESSENCE is an experience with a theatrical flavor that wants to boost an artistic vision without borders and fascinated by creative experimentation.

The dimension in which he wants capture the dancers and the audience is that of the storytelling: movement and technique at the service of the story and improvisation!

Judges: SéSé and Dominique Lesdema

Special Guests: Dj Nersone, P. Virzì, and A. Scala


CHOREOGRAPHIC CONTEST & STREET FIGHTERS

Friday 14 July - h 8.00pm @ Piazza Spose Dei Marinai

The evening dedicated to the Crews has always been the main event of the Week!

Adrenaline, Music and Location come together in a unique atmosphere in the world.

It starts with the Choreographic Contest, divided into 3 different categories (Kids, Junior, Senior), which stages the best Street Dance creations of groups from Italy and abroad: Experimentation, Energy, Storytelling and Innovation!

Following the highly anticipated Street Fighters, the Freestyle Battle crew vs crew that has been traveling the world for over 15 years in search of the most talented and complete Street Dancers.

From Italy to Japan, from France to the USA, from Germany to Korea... there have been 16 nations involved in the World Tour over the years.

Judges: Zurek, Dominique Lesdema and Swan

Special Guests: Dj BoogieSà

Host: Tromba


THE BATTLE!

Saturday 15 July - h 9.00pm @ Piazza Spose Dei Marinai

It is the Give It Up 2.0 which for its 18th edition has decided to revisit the format.

It will be The Battle!, the contest that will host the best Street Dancers from all over the world compete in a 1vs1 Freestyle Battle in the various Disciplines: Hip Hop, House, Popping, Locking, Waacking e Mix Style U16.

After the afternoon pre-selections, only the Top 4 of each category will access the evening, who will compete for victory on the coveted main stage of the Week!

The evening will be enriched by the opening showcase by The Week Kidz and performances by our international Jury.

Line Up

- HIP HOP: Zurek, Comics and Dj Ake

- HOUSE: Babì, Frankwa and Dj Lil' Jean

- POPPING: Franqey, Swan, Dj BoogieSà

- LOCKING: Lady C, Ruben Chi and Dj BoogieSà

- WAACKING: Katerina, Viktor and DJLil' Jean

- MIX STYLE U16: Filo, TBA and Dj Ake

Hosted by: Tromba


The Week is Back!