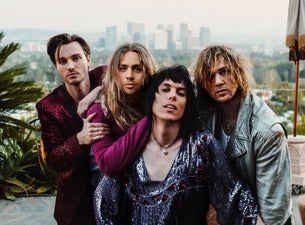 Rock/Pop
The Struts Tickets
Events
We're sorry, but we couldn't find any events
About
The Struts, the British rock band, will be back in Italy on June 9 2022 for the festival I-DAYS at Ippodromo Milano Trenno in Milan for an unmissable show!

The Struts are a British rock band made up of Luke Spiller, Adam Slack, Jed Elliott and Gethin Davies. In the last few years, The Struts have been warmly welcomed by the greatest rock and roll icons. Not only did The Struts serve as opening act for The Rolling Stones, The Who and Guns 'N' Roses, they also were Mötley Crüe's support act on their latest concerts. Dave Grohl has claimed The Struts are the best opening act Foo Fighters have ever had.

"Young & Dangerous" followed The Struts' debut album "Everybody Wants" on October, 26 2018. "Young & Dangerous" confirms The Struts' star quality and cements their reputation as one of today's best rock bands. "In Love With A Camera" is the latest single off "Young & Dangerous."

The Struts have performed at Lollapalooza, Governors Ball, Bottle Rock and Isle of Wright Festival. The group members love entertaining their fans and put on memorable shows – from Spiller's great stage presence to his carefully tended outfits.

In 2021 The Struts will be back for the only Italian show of the Strange Days Are Over Tour. The name of the tour comes from Strange Days, the band's latest work released in 2020. The album includes the homonymous song featuring Robbie Williams, I Hate How Much I Want You and Wild Child with Tom Morello from Rage Against The Machine.

You can't miss the Italian show of The Struts at I-DAYS, buy immediately the official tickets!