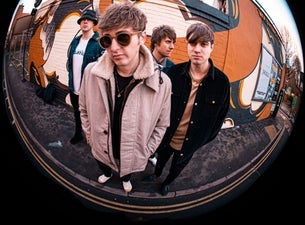 Alternative/Indie Rock
The Sherlocks Tickets
Events
Italy
There are no upcoming events in Italy
Don't worry, there are other events available below
International Events
1 Events
12/9/23

Amsterdam, Netherlands

Melkweg

The Sherlocks
About
The Sherlocks are a British alternative rock music group formed in 2010 in South Yorkshire Bolton. The band consists of Kiaran Crook (vocals and guitar) and Brandon Crook (drums), and Andy Davidson (bass) and Josh Davidson (guitar).

In 2017, The Sherlocks released their debut album titled LIVE FOR THE MOMENT, which reached number six on the UK Albums Chart within a few weeks. The album contains popular singles such as Chasing Shadows and Will You Be There?

On October 4, 2019, the band released its second studio album UNDER YOUR SKY by playing its tracks on tour in the UK from February to March 2020.

The band announced a new album titled PEOPLE LIKE ME AND YOU, to be released on August 11, 2023, with the first single, Sirens released in February.