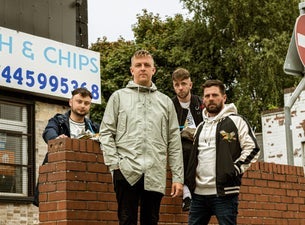 Alternative/Indie Rock
The Reytons Tickets
Events
Italy
There are no upcoming events in Italy
Don't worry, there are other events available below
International Events
1 Events
11/18/23

Amsterdam, Netherlands

Melkweg

The Reytons
About
The Reytons are an indie rock band from Rotherham, South Yorkshire. The band includes members Jonny Yerrell (vocals), Joe O'Brien (guitar), Lee Holland (bass) and Jamie Todd (drums).

The band debuted with the EP It Was All So Monotous and K.O.T.E. in 2017 followed by Alcopops & Chariti Shops, containing the tracks On the Back Burner and Low Life, and May Seriously Harm You and Others Around You.

The Reytons' debut album, Kids Off The Estate, was released on 12 November 2021 and peaked at number 11 on the UK Albums Chart.

In 2023, The Reytons returned with the new album What's Rock and Roll, reaching the top of the UK and Scottish albums charts and the UK Independent Albums.