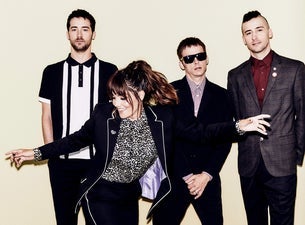 Others - Music
The Interrupters Tickets
Events
6/20/23

Milan

Alcatraz

THE INTERRUPTERS
International Events
3 Events
6/15/23

Amsterdam, Netherlands

Melkweg

The Interrupters

6/30/23

Werchter, Belgium

Festivalpark Werchter

Rock Werchter - Friday

Werchter, Belgium

Festivalpark Werchter

29 June - 2 July | Rock Werchter Combi
About
The Interrupters are an American ska punk band formed in Los Angeles in 2011, consisting of Aimee Interrupter (vocals), Kevin Bivona (guitar, lead and backing vocals), Justin Bivona (bass) and Jesse Bivona (drums, backing vocals).

The Interrupters have released three studio albums: The Interrupters in 2014, Say It Out Loud in 2016, and Fight the Good Fight in 2018, released alongside the single She's Kerosene.

The Interrupters' first single was Liberty, followed shortly after by Family. The Interrupters' debut album debuted at number 95 on the iTunes album chart in the US and following the release, the band embarked on a US and Canadian tour with artists such as The Mighty Mighty Bosstones, Street Dogs, Less Than Jake, Big D and The Kids Table.

The Interrupters' second album Say It Out Loud reached number 7 on the Billboard Heatseekers Albums chart and debuted at number 56 on the iTunes Albums chart in the US. Then, they embarked on their first headlining tour of the United States with support band Bad Cop Bad Cop.