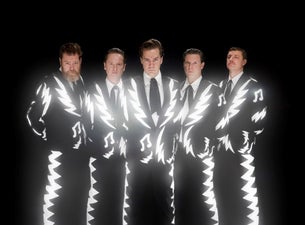 Alternative/Indie Rock
The Hives Tickets
Events
Italy
There are no upcoming events in Italy
Don't worry, there are other events available below
International Events
2 Events
6/19/24

Arnhem, Netherlands

GelreDome

Green Day - The Saviors Tour

7/4/24

Werchter, Belgium

Festivalpark Werchter

Rock Werchter 2024 - Thursday
About
The Hives are a Swedish rock band formed in the Fagersta area in 1993. Its members are Randy Fitzsimmons, Vigilante Carlstroem, Dr. Matt Destruction, Pelle Almqvist, Chris Dangerous, and Nicholaus Arson. Their style is characterized by the use of strictly black-and-white outfits and musicalities reminiscent of 1950s rock and roll, 1960s garage rock combined with 1970s punk rock.

The Hives gained popularity in the early 2000s with the resurgence of garage rock. Their success came with the April 10, 2000 release of the album Veni Vidi Viciouss containing the song Hate to Say I Told You So which in no time topped the charts internationally.

The Swedish rock band is about to return with a new album, The Death Of Randy Fitzsimmons, scheduled for release on August 11, 2023, more than a decade after its previous release. Along with the announcement, the album's first track, Bogus Operandi, was also released, whose explosive, loud yet refined sound unleashes the band's signature wild energy.