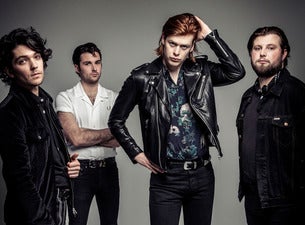 Alternative/Indie Rock
The Amazons Tickets
Events
Sorry... there are currently no upcoming events.
About
The Amazons are Matt Thomson (vocals, guitar), Chris Alderton (guitar), Elliot Briggs (bass) and Joe Emmett (drums) . The Reading quartet was named the Most Hotly Tipped Guitar Band Of 2017 by Music Week, was shortlisted for BBC Music Sound of 2017 and was nominated Best Breakthrough Act by GQ.

The Amazons, the Reading-born band's homonymous album, came out on 26 May 2017 and includes the tracks Stay With Me, Junk Food Forever and Little Something. Future Dust was released on 24 May 2019, two years after their debut album. Doubt It, the first single off Future Dust, tells about a romantic encounter and sonically exemplifies The Amazon's musical growth.

Future Dust is a sonically and lyrically mature album when compared to The Amazon's debut record. The album references rock music and groove blues and contains religious references and falsetto choruses. Thematically, Future Dust tackles serious issues such as social media addiction, eating disorder and depression.

In 2022 The Amazons released the songs Bloodrush, Ready For Something, How Will I Know? and There's A Light, that anticipate the new album How Will I Know If Heaven Will Find Me?, that will be released on 9 September.