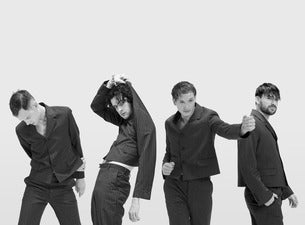 Events
Italy
There are no upcoming events in Italy
Don't worry, there are other events available below
International Events
7 Events
6/5/23

Vienna, Austria

Wiener Stadthalle - Halle D

The 1975

OSLO, Norway

Sofienbergparken

Piknik i Parken 2023 - Festivalpass

6/15/23

OSLO, Norway

Sofienbergparken

Piknik i Parken 2023 - Dagspass torsdag

6/29/23

Werchter, Belgium

Festivalpark Werchter

Rock Werchter - Thursday

STOCKHOLM, Sweden

Gärdet

LOLLAPALOOZA STOCKHOLM JUNE 29 - JULY 2023

STOCKHOLM, Sweden

Gärdet

LOLLAPALOOZA STOCKHOLM JUNE 29 - JULY 1 2023 - ACCESSIBLE TICKETS

Werchter, Belgium

Festivalpark Werchter

29 June - 2 July | Rock Werchter Combi
About
Due to the Covid-19 health emergency, the 1975's concert originally scheduled on March, 28 2020 at Fabrique in Milan and then moved to October, 19 2020 and to February, 26 2021 at the same venue has been cancelled. For further information, please READ HERE
The 1975 are a rock pop band comprising the vocalist and guitarist Matthew "Matty" Healy, the guitarist Adam Hann, the bassist Ross MacDonald and the drummer George Daniel. The frontman Matty Healy named the band after some scribbles he found on the back cover of the book "On The Road" by Jack Kerouac. The doodles spelled out "1 June 1975."
After the first EPs "Facedown" (2012), "Sex" (2012), "Music For Cars" and "IV", The 1975 released two full-length studio albums, "The 1975" (2013) and "I Like It When You Sleep, for You Are So Beautiful Yet So Unaware of It" (2016). On November, 30 2018, the Manchester-based group put out "A Brief Enquiry Into Online Relationships", which was preceded by the singles "Give Yourself A Try", "Love It If We Made It", "TooTimeTooTimeTooTime" and "Sincerity Is Scary."
"A Brief Enquiry Into Online Relationships" belongs to the so-called "Music For Cars" era. "Music For Cars" is the album trilogy that officially kicked off in 2016 with "I Like It When You Sleep, for You Are So Beautiful Yet So Unaware of It."
"A Brief Enquiry Into Online Relationships" is The 1975's third album to debut at #1 on the UK Album Chart and is a critically-acclaimed album. According to NME, "ABIOR" is a "game-changing album" and was also Sunday Times' "Album of the Week" on its release week. The Independent has also stated that "A Brief Enquiry Into Online Relationships" is "the band's best album yet". On February, 20 2019, The 1975 won two Brit Awards for "Best British Band" and "Best British Album".
The 1975's live shows are charactized by neon light and strong videos. The frontman Matty Healy has claimed that The 1975's live sets are inspired by those of Nine Inch Nails dated back to 2007.
"People", "Frail State Of Mind", "Me & You Together Song", "The Birthday Party" e "Jesus Christ 2005 God Bless America" were the first taste of The 1975's brand new album "Notes On A Conditional Form", which came out on May, 22 2020.
Come see live "the band of the decade"!