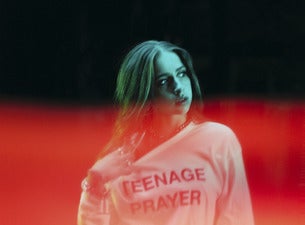 Rock/Pop
Tate McRae Tickets
Events
Italy
There are no upcoming events in Italy
Don't worry, there are other events available below
International Events
3 Events
København V, Denmark

Pumpehuset, Kransalen

Tate McRae - udskudt, ny dato følger

OSLO, Norway

Sentrum Scene

Tate McRae - Flyttet til Sentrum Scene

STOCKHOLM, Sweden

Debaser Strand

Tate McRae
About
Due to the ongoing epidemiological situation caused by Covid-19, the Tate McRae concert originally scheduled on September 15 2021 at Santeria Toscana 31 in Milan has been rescheduled for May 9 2022 at the same venue. If you already bought tickets, these will be valid for the new date.


Tate McRae, the Canadian Billie Eilish, is performing for the first time in Italy on May 9 2022 at Santeria Toscana in Milan for the only Italian show of the Europe Tour 2022.

Nominated as Push Best New Artist at the 2020 MTV Video Music Awards 2020, the young Canadian singer and dancer became a dance phenomenon by winning many awards when she was still little. At 13, she joined Justin Bieber's Purpose Tour dance troupe in 2016.

In January 2020, Tate McRae released the debut EP all the things i never said, which was preceded by the track tear myself apart produced by the brothers Billie Eilish and Finneas. In the same month, she was chosen by YouTube for the format dedicated to the emerging artists Youtube Music's Artist On The Rise. Tate McRae has more than 2.5 million subscribers on YouTube.

The single you broke me first, which went viral on TikTok, was the first song by Tate McRae to hit the Billboard Hot 100 chart. you broke me first, Vicious, don't be sad and lie to me are the first songs off McRae's new EP TOO YOUNG TO BE SAD which came out on March 26 2021.

Discover the young pop promise!