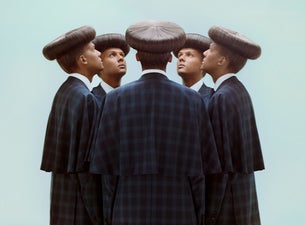 Events
5/16/23

Rome

Palazzo dello Sport - Roma

Stromae - Multitude Tour

Venue

Palazzo dello Sport - Roma
International Events
13 Events
4/13/23

Amsterdam, Netherlands

Ziggo Dome

Stromae - Multitude tour

4/14/23

Amsterdam, Netherlands

Ziggo Dome

Stromae - Multitude tour

4/15/23

Amsterdam, Netherlands

Ziggo Dome

Stromae - Multitude tour

6/1/23

Brussels, Belgium

Palais 12 - Paleis 12

Stromae

6/2/23

Brussels, Belgium

Palais 12 - Paleis 12

Stromae

6/3/23

Brussels, Belgium

Palais 12 - Paleis 12

Stromae

6/29/23

Werchter, Belgium

Festivalpark Werchter

Rock Werchter - Thursday

6/30/23

Beuningen Gld, Netherlands

Groene Heuvels

Down The Rabbit Hole 2023

Werchter, Belgium

Festivalpark Werchter

29 June - 2 July | Rock Werchter Combi

11/22/23

Amsterdam, Netherlands

Ziggo Dome

Stromae - Multitude tour

11/23/23

Amsterdam, Netherlands

Ziggo Dome

Stromae - Multitude tour

12/8/23

Brussels, Belgium

Palais 12 - Paleis 12

Stromae

12/9/23

Brussels, Belgium

Palais 12 - Paleis 12

Stromae
About
Stromae, the rapper and songwriter from Belgium, will arrive in Italy for two unmissable shows:


- July 20, 2022 - Ippodromo Snai San Siro, Milan - Milano Summer Festival

- May 16 2023 - Palazzo dello Sport, Rome


Stromae, stage name of Paul Van Haver, is famous for his French song and for his musical style which combines hip hop and soul to electronic elements. The artists approached music at the age of 11 when he started to take drums and solfège classes at a music academy.

In 2010 Stroame achieved fame thanks to the song Alors On Dance, included in his debut album Cheese. Alors on Danse is one of the biggest hits of 2010 with more than 340 million streams on Spotify and 311 million views on YouTube.

Con Recine Carrée of 2013 Stromae reconfirmed his skills and his success with songs like Papaoutai, Formidable and Tous Les Memes. The album reached the top of the FIMI's Italian chart of bestselling album and was certified four times diamond record in France with more than 2 million copies sold.

In 2016 the Belgian artist announced his retirement from the stage. Stroame returned in 2018 to collaborate with the French rapper Orelsan and to duet with Coldplay for the song Arabesque.

Stroame's latest work is the song Santé, released in October 2021 after an eight-years break. The song has already more than 3 million streams on Spotify.

You can't miss the Formidable concert of Stromae, buy immediately the official tickets on Ticketmaster!