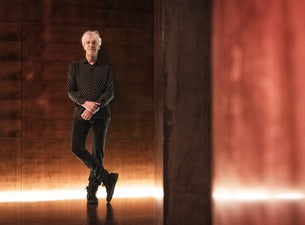 Rock/Pop
Stewart Copeland Tickets
Events
Italy
There are no upcoming events in Italy
Don't worry, there are other events available below
International Events
3 Events
7/20/23

Bremen, Germany

Seebühne Bremen

Seebühnen Lounge-Ticket 20.07.23 (Stewart Copeland)

7/20/23

Bremen, Germany

Seebühne Bremen

Stewart Copeland

7/20/23

Bremen, Germany

Seebühne Bremen

Stewart Copeland (Strandkorb)
About
Stewart Copeland is an American musician and composer, founder of the British rock band The Police.

He recruited Sting (lead singer-bass guitarist) and Andy Summers (guitarist) in 1977 and the band became a defining force in rock music, thanks to some big hits like Roxanne, Don't Stand To Close To Me, Message in a Bottle and Every Breath You Take. In their eleven years together they have released five records, have sold over 75 million records, making them one of the best-selling bands of all time, and in 2003 they have been inducted to the Rock and Roll Hall of Fame.

Stewart Copeland has spent more than three decades at the forefront of contemporary music as rock star and acclaimed film composer, as well as in the worlds of opera, ballet, and world and chamber music.

His career includes the sale of more than 60 million records worldwide, and numerous awards, including five Grammy awards.

Copeland moved beyond the rock arena in the mid-1980s when he returned to his classical roots with creative pursuits in concert, opera and film music. His operas include the chamber opera The Invention of Morel, which premiered at Chicago Opera Theatre in 2017 and two operas based on stories by Edgar Allen Poe: The Cask of Amontillado and The Tell-Tale Heart. Copeland has continued writing for Opera with Electric Saint premiering in 2021 at Staaskapelle Weimar.

Copeland has been responsible for some of the film world's most innovative and ground breaking scores. His numerous film scores include Oliver Stone's Wall Street, the seminal score for the Golden Globe-nominated soundtrack for Francis Ford Coppola's Rumble Fish, the score for Bruno Barreto's Oscar-nominated Four Days in September and his Emmy nomination for the Showtime pilot and series Dead Like Me. His work in television includes contributions to The Equalizer, Babylon V, and Desperate Housewives. He also scored the blockbuster hit video game Spyro.