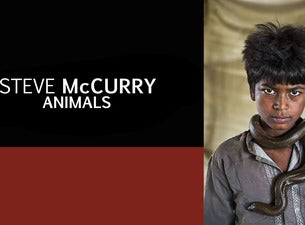 Museums/Exhibits
Steve McCurry. Animals Tickets
Events
Sorry... there are currently no upcoming events.
About
After the great success at the Palazzina di Caccia di Stupinigi in Turin, the exhibition Steve McCurry. Animals, produced by Next Exhibition in collaboration with SUDEST 57 and the Dreams Cultural Association, arrives at Palazzo Belloni in Bologna from October 8 2022.

Steve McCurry is the photographer who focuses on the stories of the most vulnerable groups, especially children, documenting the condition of civilians in conflict areas, the ethnic groups in danger of extinction and the consequences of natural disasters.

In 1992, Steve McCurry was photographing the disastrous environmental and wildlife impact of the Gulf War on the territories when he turned his empathic gaze to the animal world.

On his return from the Gulf, McCurry won the prestigious Word Press Photo award for his reportage that contains some of his most famous photographs, including those of camels crossing burning oil wells and migratory birds completely covered in oil. This is how Animals was born.

Through 60 iconic shots, Steve McCurry. Animals aims to recount the different conditions of animals and the indissoluble bond between human beings and their most faithful travel companions in a single choral fresco. The exhibition addresses issues such as the work and the sustenance provided by animals, the consequences of human actions on local fauna and the mutual affection between humans and their pets.

Do not miss the thoughtful exhibition on the relationship between man and nature!