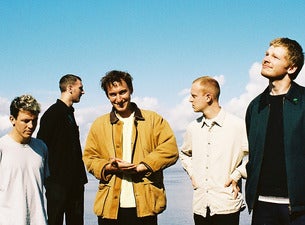 Events
We're sorry, but we couldn't find any events
About
Due to the restrictions of the epidemiological situation caused by Covid-19, the shows of Squid previously scheduled for October 25 2021 at Circolo Magnolia in Segrate (Milan) and for October 26 2021 at Locomotiv Club in Bologna have been cancelled. For further information, please READ HERE
Louis Borlase, Oliver Judge, Arthur Leadbetter, Laurie Nankivell and Anton Pearson met at university in Brighton in 2015. Sharing a passion for ambient and jazz music, Squid started playing in a local jazz café.
In the debut EP, "Lino", you can hear the propulsive sounds of German music in the seventies. The single "Terrestrial Changeover Blues (2007-2012)" proved again the eclecticism of the post-punk band from Brighton. The following track "The Dial" introduced Squid to the producer Dan Carey, who also worked on their latest EP "Town Center." With "Houseplants", Squid reached the top of the UK charts and ended up on BBC Radio 6Music's A-list.
Squid's new album "Bright Green Field" is inspired by the tumultuous world we live in and represents a darker chapter in which the emotional depth of music is further explored.
Don't miss the band without limits!