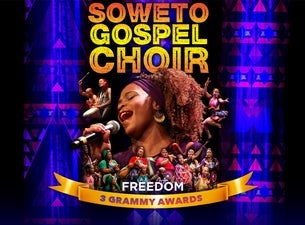 Religious
Soweto Gospel Choir Tickets
Events
Sorry... there are currently no upcoming events.
About
Soweto Gospel Choir is a choir comprised of the best artists in South Africa. The three-time Grammy Award-winning, was formed to celebrate the unique and inspirational power of African gospel music.

The dynamic choir performs both traditional and contemporary music, adding its unique feel and interpretation to both. The choir performs in six of South Africa's eleven official languages with rich harmonies and earthy rhythms.

Soweto Gospel Choir have shared the stage with some of the biggest names in music including U2, Aretha Franklin, Stevie Wonder, Robert Plant, Celine Dion, Red Hot Chili Peppers and Josh Groban.