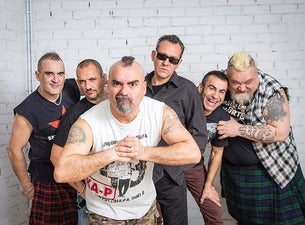 Events
Romano D'ezzelino

Villa Ca' Cornaro

AMA Music Festival Pass

8/25/22

Romano D'ezzelino

Villa Ca' Cornaro

AMA Festival DAY2 | SKA P + ZEBRAHEAD + PUNKREAS

9/25/22

Sesto San Giovanni

Carroponte

SKA-P + Peter & The Test Tube Babies + Le Bambole di Pezza
About
The spanish Ska-P will be back in Italy for two unmissable shows on August 25 2022 as the second headliner of AMA Music Festival at Villa Ca' Cornaro in Romano D'Ezzellino (Vicenza) and on September 25 2022 at Carroponte in Sesto San Giovanni (Milan).

The spanish band who have always made their mixture of music and social and political commitment their artistic manifesto was born in 1994 in Vallecas, Madrid, where they debuted with the self-produced and homonymous album Ska-P distributed with a small independent label. In 1996 Ska-P achieved national and international fame with the historical album El Vals del Obrero which includes the famous songs Cannabis and El Vals del Obrero. To promote the album the band performed in France, Spain and at Vallekas Rock Festival.

The band, led by Pulpul, throughout the years has brought Ska-P to perform all over Europe and in South America.

Among the most famous songs of Ska-P we can find Paramilitar from Eurosis of 1998, Mestizaje and Tio Sam included in Planeta Eskoria of 2000, Mis Colegas and Nino Soldado taken off the famous Que Corra La Voz of 2000 and Ni Fu Ni Fa from Lagrimas y Gozos of 2008.

The latest work of Ska-P is Game Over released in 2018, five years after their previous album 99% (2013). The latest tracks are an explosive mix of ska, punk rock and reggae.

On Game Over, Ska-P speak on behalf of the weakest and denounce our society injustice, without being afraid of using strong tones, as showed on the single Jaque al rey ("Checkmate the king"). Among the most immediately appreciated songs, there are the opening track A Chitón, which denounces the repressive actions of the authorities against all opponents, and No lo volveré a hacer más about alcohol addiction.

You can't miss the Italian show of Ska-P, buy immediately the official tickets!