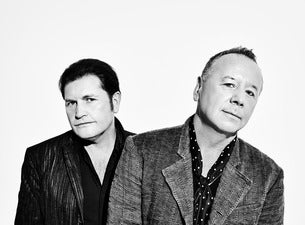 Rock/Pop
Simple Minds Tickets
Events
4/20/24

Assago

Mediolanum Forum

SIMPLE MINDS - Global Tour 2024

6/28/24

Rome

Auditorium Parco della Musica Ennio Morricone

Simple Minds

Venue

Auditorium Parco della Musica Ennio Morricone

6/30/24

Bari

Rotonda Paolo Pinto

Simple Minds - Locus Festival 2024

7/1/24

Senigallia

Piazza Garibaldi

Simple Minds

7/4/24

Mantua

Piazza Sordello di Mantova

Simple Minds - Mantova Summer Festival

Venue

Piazza Sordello di Mantova
International Events
20 Events
4/2/24

Esch-sur-Alzette, Luxembourg

Rockhal Main Hall

Simple Minds

4/5/24

Merksem (Antwerpen), Belgium

Sportpaleis Antwerpen

Simple Minds: Global Tour

4/6/24

Amsterdam, Netherlands

Ziggo Dome

Simple Minds - Global Tour

4/6/24

Amsterdam, Netherlands

Ziggo Dome

Simple Minds - Gold Global Tour Fan Experience

4/6/24

Amsterdam, Netherlands

Ziggo Dome

Simple Minds - Silver Global Tour Fan Experience

4/8/24

København S, Denmark

Royal Arena

Simple Minds

4/8/24

København S, Denmark

Royal Arena

Simple Minds - VIP-packages

4/10/24

Hamburg, Germany

Barclays Arena

Simple Minds | Silver Global Tour Fan Experience

4/10/24

Hamburg, Germany

Barclays Arena

Simple Minds

4/10/24

Hamburg, Germany

Barclays Arena

Simple Minds | Gold Global Tour Fan Experience

4/11/24

Berlin, Germany

Mercedes-Benz Arena

Simple Minds | Gold Global Tour Fan Experience

4/11/24

Berlin, Germany

Mercedes-Benz Arena

Simple Minds | Silver Global Tour Fan Experience

4/11/24

Berlin, Germany

Mercedes-Benz Arena

Simple Minds

4/11/24

Berlin, Germany

Mercedes-Benz Arena

Simple Minds | Box seat in the Ticketmaster Suite

4/12/24

Frankfurt am Main, Germany

Festhalle

Simple Minds | Gold Global Tour Fan Experience
About
Sign in to
My Live Nation Presale
from Monday 4 December 2023 at 10am to secure your tickets first!
The founding and current members of Simple Minds are singer Jim Kerr and guitarist Charlie Burchill. The name of the Scottish group derives from a verse of the song The Jean Genie by David Bowie. Simple Minds have totaled 60 million records sold and had five albums at the top of the UK album charts: Sparkle In The Rain (1984), Once Upon A Time (1985),Street Fighting Years (1989), Live In The City Of Light (1987) and Glittering Prize 81/92 (1992).
Formed in 1977, Simple Minds rose to prominence in 1982 thanks to the successful fifth studio album
New Gold Dream,
defined as the manifesto of new wave music. The commercial success achieved by the Glasgow-based group has increased thanks to the following albums Sparkle In The Rain (1984) and Once Upon A Time (1985) and was consecrated by the international hit
Don't You (Forget About Me),
soundtrack of the eighties cult teen film The Breakfast Club by John Hughes.
On October 31 2019, Simple Minds released the collection Forthy: The Best Of Simple Minds to retrace and celebrate their 40-year career. In the greatest hits, the unreleased single For One Night Only by King Creosote (2014) appears.
On 21 July 2023, Simple Minds announced the release of their new live album entitled New Gold Dream - Live From Paisley Abbey, a recording of their special live performance at Scotland's Paisley Abbey, during which they performed their groundbreaking 1982 album New Gold Dream for Sky TV's 'Greatest Albums live' series.
Following the huge success of the well-received '40 Years Of Hits' tour in 2022, Simple Minds have announced their Global Tour 2024.
Don't miss the chance to see Simple Minds live!