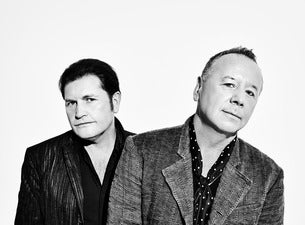 Rock/Pop
Biglietti per Simple Minds
Eventi
20/04/24

Assago

Mediolanum Forum

SIMPLE MINDS - Global Tour 2024

Luogo dell'evento

Mediolanum Forum
Eventi internazionali
19 eventi
02/04/24

Esch-sur-Alzette, Lussemburgo

Rockhal Main Hall

SIMPLE MINDS

05/04/24

Merksem (Antwerpen), Belgio

Sportpaleis Antwerpen

Simple Minds: Global Tour

06/04/24

Amsterdam, Paesi Bassi

Ziggo Dome

Simple Minds - Global Tour

06/04/24

Amsterdam, Paesi Bassi

Ziggo Dome

Simple Minds - Gold Global Tour Fan Experience

06/04/24

Amsterdam, Paesi Bassi

Ziggo Dome

Simple Minds - Silver Global Tour Fan Experience

08/04/24

København S, Danimarca

Royal Arena

Simple Minds

08/04/24

København S, Danimarca

Royal Arena

Simple Minds - VIP-pakker

10/04/24

Hamburg, Germania

Barclays Arena

Simple Minds | Silver Global Tour Fan Experience

10/04/24

Hamburg, Germania

Barclays Arena

Simple Minds

10/04/24

Hamburg, Germania

Barclays Arena

Simple Minds | Gold Global Tour Fan Experience

11/04/24

Berlin, Germania

Mercedes-Benz Arena

Simple Minds | Gold Global Tour Fan Experience

11/04/24

Berlin, Germania

Mercedes-Benz Arena

Simple Minds | Silver Global Tour Fan Experience

11/04/24

Berlin, Germania

Mercedes-Benz Arena

Simple Minds

12/04/24

Frankfurt am Main, Germania

Festhalle

Simple Minds | Gold Global Tour Fan Experience

12/04/24

Frankfurt am Main, Germania

Festhalle

Simple Minds | Silver Global Tour Fan Experience

12/04/24

Frankfurt am Main, Germania

Festhalle

Simple Minds

13/04/24

München, Germania

Zenith

Simple Minds | Gold Global Tour Fan Experience

13/04/24

München, Germania

Zenith

Simple Minds | Silver Global Tour Fan Experience

13/04/24

München, Germania

Zenith

Simple Minds
Informazioni
I membri fondatori e attuali componenti di Simple Minds sono il cantante Jim Kerr e il chitarrista Charlie Burchill. Il nome del gruppo scozzese deriva da un verso del brano The Jean Genie di David Bowie. I Simple Minds hanno totalizzato 60 milioni di dischi venduti e hanno avuto cinque album alla prima posizione delle classifiche album inglese: Sparkle In The Rain (1984), Once Upon A Time (1985), Street Fighting Years (1989), Live In The City Of Light (1987) e Glittering Prize 81/92 (1992).

Formatisi nel 1977, i Simple Minds sono saliti alla ribalta nel 1982 grazie al fortunato quinto album in studio New Gold Dream, definito disco-manifesto della musica new wave. Il successo commerciale raggiunto dal gruppo originario di Glasgow è incrementato grazie ai seguenti album Sparkle In The Rain (1984) e Once Upon A Time (1985) ed è stato consacrato dalla hit internazionale Don't You (Forget About Me), colonna sonora del film teen cult anni Ottanta The Breakfast Club di John Hughes.

Il 31 ottobre 2019, i Simple Minds hanno rilasciato la raccolta Forthy: The Best Of Simple Minds per ripercorrere e celebrare i loro quarant'anni di carriera. Nel greatest hits, compare il singolo inedito For One Night Only di King Creosote (2014).

Il 21 luglio 2023, i Simple Minds hanno annunciato la pubblicazione del loro nuovo album dal vivo intitolato New Gold Dream - Live From Paisley Abbey, una registrazione della loro speciale esibizione dal vivo nell'abbazia scozzese di Paisley,durante la quale hanno eseguito il loro rivoluzionario album del 1982 New Gold Dream per la serie "Greatest Albums live" di Sky TV.

Dopo l'enorme successo del tour "40 Years Of Hits" del 2022, accolto con grande entusiasmo, i Simple Minds hanno annunciato il loro Global Tour 2024.

Non perderti la possibilità di vedere i Simple Minds live!