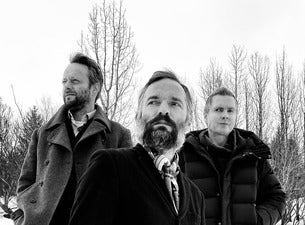 Rock/Pop
Sigur Ros Tickets
Events
7/9/23

Rome

Auditorium Parco della Musica Ennio Morricone

Sigur Ros

Venue

Auditorium Parco della Musica Ennio Morricone

7/11/23

Bari

Faro Borbonico

Sigur Ros

7/13/23

Mantua

Piazza Sordello di Mantova

Sigur Ros

Venue

Piazza Sordello di Mantova
International Events
3 Events
7/1/23

Werchter, Belgium

Festivalpark Werchter

Rock Werchter - Saturday

Werchter, Belgium

Festivalpark Werchter

29 June - 2 July | Rock Werchter Combi

Bontida, Romania

Bánffy Castle

Electric Castle Festival - 19. - 23. Juli 2023
About
Sigur Rós are an historical Icelandic band born in 1993 in Reykjavìk. The trio debuted with the song Fljùgou recorded in six weeks and released thanks to the fellow citizen Björk who included the song in a compilation dedicated to the 50th anniversary of the Icelandic independence.

In 1997 Sigur Rós released their first album, Von, with which the band has achieved the national fame thanks to the song Myrkur, which has ranked on the top of the national charts. The international fame of Sigur Rós was achieved on 1999 with the album Ágætis Byrjun featuring the songs Svefn-g-englar and Ný Batterí. With Ágætis Byrjun the band has become the opening act of Radiohead and Godspeed You! Black Emperor.

Among the most famous songs of Sigur Rós we can recall Untitled #3 – Samsekeyti and Untitled #4 Njòsnavélin included in () of 2002, Sæglópur and Hoppìpolla from Takk… of 2005 besides Gobbledigook and Festival, Með suð í eyrum and Við spilum endalaust of 2008.

In 2022 the most famous band of Iceland came back with a world tour and announced that Sigur Rós are working on a new album.