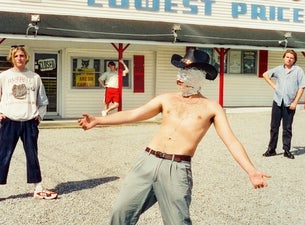 Events
Italy
There are no upcoming events in Italy
Don't worry, there are other events available below
International Events
1 Events
5/25/24

Amsterdam, Netherlands

Melkweg

Pretty Pissed
About
shame is an English post-punk band from South London.

The band is composed of Eddie Green, Charlie Forbes, Josh Finerty, Sean Coyle-Smith, Charlie Steen and Tarrick.

Quickly becoming one of the landmarks of the British post-punk scene, the shame released in 2018 their first album, Song of Praise, very positively received by critics. From the project were extracted the singles Gold Hole, The Lick, Tasteless, Concrete and One Rizla.

In 2021, shame released their second album, Drunk Tank Pink, which contains the singles Alphabet, Water in the Well, Snow Day and Nigel Hitter.

In 2023 shame will be back with Food For Worm, "the Lamborghini of the album of the shame" as told by the frontman. The album is produced by Flood (Nick Cave, Foals) and was recorded on tour. The work is full of more eclectical influences from Blumfeld and Lou Reed.

Don't miss shame live!