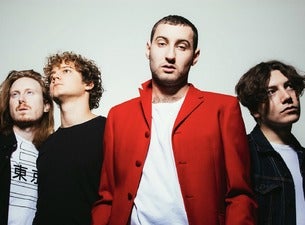 Alternative/Indie Rock
Sea Girls Tickets
Events
Italy
There are no upcoming events in Italy
Don't worry, there are other events available below
International Events
1 Events
11/10/22

København K, Denmark

Hotel Cecil

Sea Girls (UK)
About
Founded in 2015 in London, Sea Girls are Henry Camamile (vocals, guitar), Rory Young (guitar), Andrew Dawson (bass) and Oli Khan (drums).

Sea Girls' debut single is called "Call Me Out" and belongs to the EP "Sea Girls." Sea Girls' second EP "Heavenly War", whose official singles were the title track, "Lost" and "What For", was followed by "Adored" containing the namesake single, "Eat Me Whole" and "Too Much Fun."

In May 2019, Sea Girls released "Damage Done", which peaked at #1 on Radio 1 Hype Chart. Among the latest releases there are "Open Up Your Head", "All I Want To Hear You Say", "Closer" and "Violet."

Shortlisted for the BBC Sound of Sound, Sea Girls played at Festival Internacional de Benicassìm, Rock Werchter, Haldern Pop Festival and Lowlands Festival.

Are you in for "Too Much Fun"? Don't miss Sea Girls!