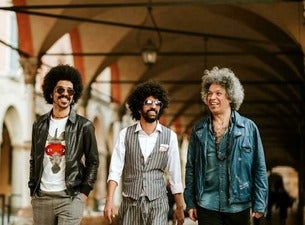 Rock/Pop
Savana Funk Tickets
Events
We're sorry, but we couldn't find any events
About
Savana Funk is a band that brings together funk, rock and blues, consisting of Aldo Betto, Youssef Ait Bouazza and Blake C. S. Franchetto.

Savana Funk are characterised by an enviable stage presence and a deep harmony born from their beginnings in 2015. Their first album was Musica analoga released in 2016, while their second album Savana Funk was released in February 2017.

Savana Funk's third album was Bring in the New, in which Chris Costa, Don Antonio and Danilo Mineo also participated, and which received excellent responses from critics and the public.

The band plays several live shows at important festivals and exhibitions and in the summer of 2019 Savana Funk are invited to many concerts at Jovanotti's Jova Beach Party.

Don't miss Savana Funk's charisma live!