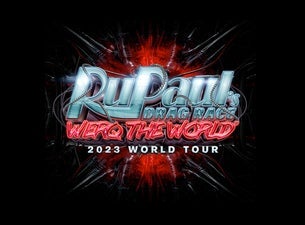 Altri - Arte & Teatro
Biglietti per RuPaul's Drag Race
Eventi
12/11/23

Assago

Mediolanum Forum

RuPaul's Drag Race Werq The World Tour 2023

Luogo dell'evento

Mediolanum Forum
Eventi internazionali
16 eventi
02/11/23

Amsterdam, Paesi Bassi

Ziggo Dome

RuPaul's Drag Race Werq The World - VIP Meet & Greet Upgrade

02/11/23

Amsterdam, Paesi Bassi

Ziggo Dome

RuPaul's Drag Race Werq The World

03/11/23

Hamburg, Germania

Barclays Arena

RuPaul's Drag Race – Werq the World

04/11/23

Cologne, Germania

LANXESS arena

RuPaul's Drag Race – Werq the World

04/11/23

Cologne, Germania

LANXESS arena

RuPaul's Drag Race – Werq the World | Logen-Package

04/11/23

Cologne, Germania

LANXESS arena

RuPaul's Drag Race – Werq the World | Premium-Package

05/11/23

Berlin, Germania

Mercedes-Benz Arena

RuPaul's Drag Race | Logen-Seat in der Ticketmaster Suite

05/11/23

Berlin, Germania

Mercedes-Benz Arena

RuPaul's Drag Race – Werq the World

05/11/23

Berlin, Germania

Mercedes-Benz Arena

RuPaul's Drag Race – Werq the World | All-In Premium Package

05/11/23

Berlin, Germania

Mercedes-Benz Arena

RuPaul's Drag Race – Werq the World | Premium Seat

09/11/23

Merksem (Antwerpen), Belgio

Lotto Arena Antwerpen

RuPaul's Drag Race Werq the World Tour 2023 - MEET & GREET

09/11/23

Merksem (Antwerpen), Belgio

Lotto Arena Antwerpen

RuPaul's Drag Race Werq the World Tour 2023

11/11/23

Dübendorf, Svizzera

THE HALL Zürich

RuPaul's Drag Race Werq the World Tour 2023

11/11/23

Dübendorf, Svizzera

THE HALL Zürich

RuPaul's Drag Race | VIP Meet and Greet Upgrade

14/11/23

Madrid, Spagna

WiZink Center

RuPaul's Drag Race Werq The World Tour 2023

14/11/23

Madrid, Spagna

WiZink Center

RuPaul's Drag Race Werq The World Tour 2023 - Upgrade VIP M&G
Informazioni
RuPaul's Drag Race World Tour, il tour mondiale di uno degli spettacoli televisivi più amati in tutto il mondo, ritorna con una produzione interamente nuova il 12 novembre 2023 al Mediolanum Forum di Assago (MI) per l'unica tappa italiana del Werq the World Tour 2023.

Unisciti ad Angeria, Aquaria, Bosco, Daya Betty, Ginger Minj, Jaida Essence Hall, Kandy Muse e Laganja Estranja ed entra a far parte delle loro più grandi fantasie nel Werq the World Tour 2023 di RuPaul's Drag Race.

Non potete perdere la nuova spettacolare produzione dello show televisivo americano più seguito!