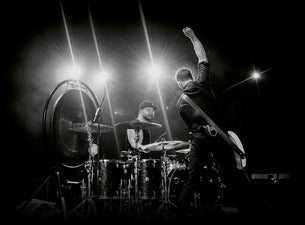 Rock/Pop
Royal Blood Tickets
Events
Italy
There are no upcoming events in Italy
Don't worry, there are other events available below
International Events
1 Events
Lisbon, Portugal

Passeio marítimo de Algés

NOS Alive 2022, 6-9 July 2022 | Order tickets in Germany
About
The show of Royal Blood previously scheduled for March 19 2022 at Lorenzini District in Milan and then shifted to Alcatraz in Milan has been rescheduled for June 23 2022 at Alcatraz in Milan. If you have already bought the tickets, these will be valid for the new show.


Royal Blood, the band that has reignited the rock flame, have announced their only Italian date of their greatest European tour ever, 2022 European Tour, on June 23 2022 at Alcatraz in Milan.

Royal Blood are a British rock duo consisting of Mike Kerr (vocals, bass, keyboard) and Ben Thatcher (drums).

The main feature of Royal Blood is the use of sound engineering to create a hard and pure sound, while only playing bass guitar and drums.

Founded in 2011 in Brighton, Royal Blood, originally made of Mike Kerr and Matt Swan, released their first single Out of the Black in September 2013, accompanied by the track Come on Over on the B-side. Then they supported Artic Monkeys for two concerts in 2014, and in the same year released the single Little Monster, followed by the EP Out of the Black.

In August 2014, they released their debut album Royal Blood, which received great reviews, especially thanks to the single Figure It Out. It was the rock album that sold more copies in the shortest time in the UK in three years. In 2016, the duo released Where Are You Know?, while in June 2017 they put out their second studio album, How Did We Get So Dark?, which included the singles Lights Out and Hole in Your Heart and was followed by a successful tour across the UK, US and Europe.

After a 5-year absence, Royal Blood returned to the scene in 2019 with a new European tour, unveiling the unreleased tracks Boilermaker and King live for the first time. On September 24 2020, the first single Touble's Coming from the third studio album Typhoons was presented. Royal Blood's new album was released in April 2021 and was preceded by the single Limbo.

This latest album features a sound between rocking-blues and hard rock but also with electronic and dance elements. A change from the band's previous works, creating an effective mix of different genres.

Don't miss the powerful and raw sound of the blues-garage rock duo from Brighton!