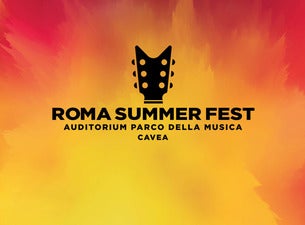 Music Festival
Roma Summer Fest Tickets
Events
6/13/23

Rome

Auditorium Parco della Musica Ennio Morricone

Pet Shop Boys

Venue

Auditorium Parco della Musica Ennio Morricone

6/26/23

Rome

Auditorium Parco della Musica Ennio Morricone

The Lumineers - Brightside World Tour 2023

Venue

Auditorium Parco della Musica Ennio Morricone

6/28/23

Rome

Auditorium Parco della Musica Ennio Morricone

Interpol

Venue

Auditorium Parco della Musica Ennio Morricone

6/30/23

Rome

Auditorium Parco della Musica Ennio Morricone

Beth Hart

Venue

Auditorium Parco della Musica Ennio Morricone

7/5/23

Rome

Auditorium Parco della Musica Ennio Morricone

James Bay

Venue

Auditorium Parco della Musica Ennio Morricone

7/9/23

Rome

Auditorium Parco della Musica Ennio Morricone

Sigur Ros

Venue

Auditorium Parco della Musica Ennio Morricone

7/11/23

Rome

Auditorium Parco della Musica Ennio Morricone

OneRepublic

Venue

Auditorium Parco della Musica Ennio Morricone

7/14/23

Rome

Auditorium Parco della Musica Ennio Morricone

Sting - My Songs 2023

Venue

Auditorium Parco della Musica Ennio Morricone

7/26/23

Rome

Auditorium Parco della Musica Ennio Morricone

Tash Sultana

Venue

Auditorium Parco della Musica Ennio Morricone
About
Roma Summer Fest, one of the leading music festivals of the Italian capital city, is held every summer in a unique location: the Cavea of Auditorium Parco della Musica, designed by Renzo Piano.

In this incomparable venue, Roma Summer Fest holds live concerts of the greatest Italian and international rock, pop and jazz stars and songwriters during the summer.

Roma Summer Fest will bring to Italy in 2023 the Lumineers who will be playing in Rome for their third Italian show on June 26 2023 and OneRepublic which will perform on July 11 2023.

To date, almost one million attendees have taken part in the festival to see artists such as Elton John, Sting, Bjork, Leonard Cohen, Bob Dylan, The National, Paolo Conte, Fiorella Mannoia, José Carreras, Dario Fo, Franco Battiato, Patti Smith, Arctic Monkeys, Simple Minds, Ringo Starr, Mogwai, Franz Ferdinand, Steven Tyler, Sting and Shaggy.

You can't miss the festival that made Rome the capital city of international music!