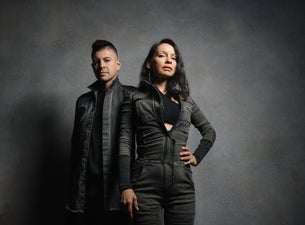 Rock/Pop
Rodrigo y Gabriela Tickets
Events
Sorry... there are currently no upcoming events.
About
Rodrigo y Gabriela are a pair of Mexican guitarists composed by Rodrigo Sánchez and Gabriela Quintero.

Rodrigo y Gabriela made their debut in 2001 with Foc, a collection of nine demos, followed by re-Foc.

However, the real success came in 2006 with the eponymous Rodrigo y Gabriela, who reached the first position in Ireland and was also successful in most of Europe and the United States. The album, produced by John Leckie, contains the cover of Stairway to Heaven by Led Zeppelin, as well as that of Orion by Metallica. These and other tracks have made the duo known to the general public.

The next album 11:11 was released in September 2009 and features Alex Skolnick of Testament and Strunz & Farah. Rodrigo y Gabriela performed at The Tonight Show with Jay Leno on March 23, 2010 and participated in several festivals the same year.

In 2011 they entered the studio with Hans Zimmer and recorded some sessions for the soundtrack of the film Pirates of the Caribbean - Beyond the Sea. Some of the duo's songs are also featured in the film Puss in Boots.

In January 2012 they released Area 52, an album recorded in Cuba with the participation of a Cuban orchestra and artists such as John Tempesta and Anoushka Shankar.

In April 2014 it was the turn of 9 Dead Alive, the fourth studio album, recorded in Mexico.

Rodrigo y Gabriela's last official album is Mettaevolution, released in 2019.