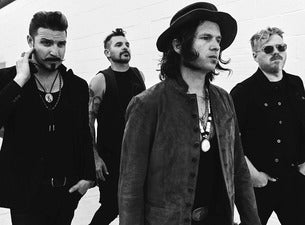 Rock/Pop
Rival Sons Tickets
Events
Italy
There are no upcoming events in Italy
Don't worry, there are other events available below
International Events
13 Events
7/20/23

TROMSØ, Norway

Telegrafbukta,Tromsø

Festivalpass Buktafestivalen 20.-22. juli 2023

7/21/23

TROMSØ, Norway

Telegrafbukta,Tromsø

Fredagsbillett Buktafestivalen 21. juli 2023

11/2/23

Munich, Germany

Theaterfabrik

Rival Sons - The Darkfighter Tour

11/5/23

Warsaw, Poland

Klub Stodoła

Rival Sons

11/6/23

Poznan, Poland

B17

Rival Sons

11/8/23

Berlin, Germany

Huxleys Neue Welt

Rival Sons - The Darkfighter Tour

11/9/23

Amsterdam, Netherlands

Melkweg

Rival Sons

11/10/23

Cologne, Germany

Kantine

Rival Sons - The Darkfighter Tour

11/13/23

Hamburg, Germany

Grosse Freiheit 36

Rival Sons - The Darkfighter Tour

11/14/23

København K, Denmark

Den Grå Hal

Rival Sons

11/16/23

BERGEN, Norway

Forum Scene

Rival Sons

11/17/23

OSLO, Norway

Sentrum Scene

Rival Sons

11/18/23

STOCKHOLM, Sweden

B-K

Rival Sons
About
The band debuted in 2009 with the self-released record Before The Fire. In the same year Rival Sons started reaching audiences due to being the opening act of the shows of AC/DC, Alice Cooper and Kid Rock.

Thanks to their notoriety achieved, in 2011 the group signed a record deal with the label Eearche Record and they released the EP Rival Sons and the album Pressure and Time, whose cover has been created by Storm Thorgerson, famous for the cover of The Dark Side of The Moon of Pink Floyd. The album was appreciated by the audience and the band began performing at the most important European festivals. In the same year the band was also chosen to be the opening act of the Judas Priest's tour.

Throughout their career the Rival Sons released the albums Head Down of 2012, Great Western Valkyrie of 2014, Hollow Bones of 2016 and Feral Roots of 2019 nominated at the Grammy Award for Best Rock Album.

With their sound and their style Rival Sons are often compared to artists from the 1970s. Some of them such as Prince, Joni Mitchell and Van Morrison have influenced the music of the band.