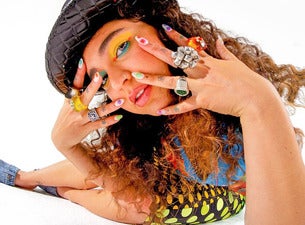 Rock/Pop
Remi Wolf Tickets
Events
Italy
There are no upcoming events in Italy
Don't worry, there are other events available below
About
Remi Francis Wolf is an American singer-songwriter originally from California.

After a youth as a sportswoman having represented the United States in alpine skiing at the Youth Olympic Games for two consecutive years, she began to get into music and then participated in American Idol in 2014. Remi Wolf became increasingly dedicated to music until 2019 and her solo debut with the self-produced EP You're A Dog!

This was followed in 2020 by the second EP I'm Allergic To Dogs! In 2021 Remi Wolf released both the EP We Love Dogs! and her first studio album Juno.

Remi Wolf features a funky soul pop sound and is constantly seeking innovation. The key of her music is experimenting with upbeat sounds that are unconventional but tie into her life experiences.

Don't miss Remi Wolf's talent live!