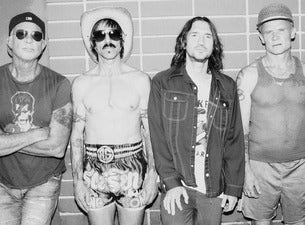 Alternative/Indie Rock
Red Hot Chili Peppers Tickets
Events
Italy
There are no upcoming events in Italy
Don't worry, there are other events available below
International Events
13 Events
7/5/2022

Cologne, Germany

RheinEnergieStadion

Red Hot Chili Peppers: World Tour 2022

7/5/2022

Cologne, Germany

RheinEnergieStadion

Red Hot Chilli Peppers | Unlimited Package Business Seat

7/5/2022

Cologne, Germany

RheinEnergieStadion

Red Hot Chili Peppers | Gold Circle Early Entry

7/5/2022

Cologne, Germany

RheinEnergieStadion

Red Hot Chili Peppers | Gold Merch Bundle

7/5/2022

Cologne, Germany

RheinEnergieStadion

Red Hot Chili Peppers | Pitch Early Entry

7/5/2022

Cologne, Germany

RheinEnergieStadion

Red Hot Chili Peppers | Silver Merch Bundle

7/5/2022

Cologne, Germany

RheinEnergieStadion

Red Hot Chili Peppers | VIP Lounge

7/12/2022

Hamburg, Germany

Volksparkstadion

Red Hot Chili Peppers: World Tour 2022

7/12/2022

Hamburg, Germany

Volksparkstadion

Red Hot Chili Peppers | Gold Circle Early Entry

7/12/2022

Hamburg, Germany

Volksparkstadion

Red Hot Chili Peppers | Gold Merch Bundle

7/12/2022

Hamburg, Germany

Volksparkstadion

Red Hot Chili Peppers | Pitch Early Entry

7/12/2022

Hamburg, Germany

Volksparkstadion

Red Hot Chili Peppers | Silver Merch Bundle

7/12/2022

Hamburg, Germany

Volksparkstadion

Red Hot Chili Peppers | VIP Lounge
About
The Red Hot Chili Peppers concert originally scheduled on June 16 2020 at the Visarno Arena in Florence and then moved to June 16 2021 has been rescheduled for June 18 2022 at the same venue. For further information, please READ HERE
Red Hot Chili Peppers, one of the most iconic rock bands ever, are the singer and frontman Anthony Kiedis, the bassist Flea and the drummer Chad Smith. On December, 15 2019, Red Hot Chili Peppers announced via Instagram that the legendary guitarist John Frusciante rejoined the group following the departure of the guitar player Josh Klinghoffer.
Formed in 1983, the Los Angeles rock band has sold over 60 million copies and won 6 Grammy Awards. "The Getaway", the band's first studio album since "I'm with You" (2011), was Red Hot Chili Pepper's sixth album to debut at #1 on the ARIA chart in 2016.
Among Red Hot Chili Peppers' most well-known albums there are "Stadium Arcadium", "By The Way", "Californication", "One Hot Minute" and "Blood Sugar Sex Magik", ranked by Rolling Stone one of the 20 best albums of the 90s.
The "Under The Bridge" band entered the Rock and Roll Hall Of Fame in April 2012.
On March, 15 2019, Red Hot Chili Peppers performed under the stars in the breathtaking scenery of the Pyramids of Giza in Egypt.