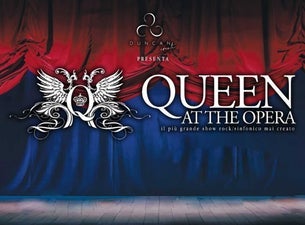 Classical
Queen at the Opera Tickets
Events
2/18/23

Padua

Gran Teatro GEOX

Queen At The Opera

2/19/23

Brescia

Gran Teatro Morato

Queen At The Opera
About
Queen at the Opera is a symphonic rock show based on the music of Queen and Freddie Mercury which debuted with an international tour in 2015 gaining standing ovations and sold out shows in the last years.

Born from an idea of Simone Scorcelletti, produced by DuncanEventi, Queen at the Opera is entirely based on the legenedary music of Queen. The songs are interpreted by an ensemble of vocalists and among the singers there are some true stars of theatrical music such as Luca Marconi, Valentina Ferrari, Alessandro Marchi, Luana Fraccalvieri and Giada Sabellico.

Timeless classics such as We Are The Champions, Barcelona, Bohemian Rhapsody, We Will Rock You, The Show Must Go On, Radio Ga Ga, A Kind Of Magic, Under Pressure and Another One Bites The Dust are the mainstay, reliving everytime in their overwhelming splendor, thanks to the perfect sound fusion, powerful and elegant, that only symphonic music mixed with live rock can generate. Everything is enhanced by a suggestive visual show, which makes the atmosphere even more exciting and engaging.