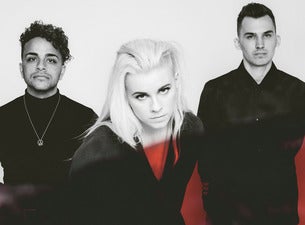 Alternative/Indie Rock
Biglietti per PVRIS
Eventi
Italia
Nessun futuro evento in Italia
Non preoccuparti, ci sono altri eventi disponibili qui sotto
Eventi internazionali
9 eventi
17/10/23

Warsaw, Polonia

COS Torwar

Fall Out Boy - So Much For (Tour) Dust UK & Europe 2023

18/10/23

Praha 7, Rep. Ceca

Sportovní hala FORTUNA

Fall Out Boy: So Much For (Tour) Dust UK&Europe 2023 - Praha

21/10/23

München, Germania

Zenith

Fall Out Boy : So Much For (Tour) Dust UK/Europe Arena Tour

24/10/23

Amsterdam, Paesi Bassi

AFAS Live

Fall Out Boy - So Much For (Tour) Dust

24/10/23

Amsterdam, Paesi Bassi

AFAS Live

Fall Out Boy | So Much (For) VIP Experience

24/10/23

Amsterdam, Paesi Bassi

AFAS Live

Fall Out Boy | What A Time To Be A VIP Package

06/11/23

Oberhausen, Germania

Rudolf Weber-ARENA

Fall Out Boy : So Much For (Tour) Dust UK/Europe Arena Tour

07/11/23

Hamburg, Germania

Barclays Arena

Fall Out Boy : So Much For (Tour) Dust UK/Europe Arena Tour

08/11/23

Berlin, Germania

Max-Schmeling-Halle

Fall Out Boy : So Much For (Tour) Dust UK/Europe Arena Tour
Informazioni
I PVRIS (pronunciato Paris) è il duo rock originario di Lowell, Massachusetts, composto dalla frontman Lynn Gunn e dal bassista/tastierista Brian MacDonald (ex membro del gruppo I Am the Fallen).

Dopo l'EP omonimo uscito nel 2013, i PVRIS hanno pubblicato l'album di debutto White Nouse nel novembre 2014. Nel 2017, i PVRIS hanno aperto i concerti dei Muse e dei Thirty Seconds To Mars e hanno dato alle stampe il disco All We Know of Heaven, All We Need of Hell, da cui sono stati estratti i singoli Heaven e What's Wrong. L'ultimo lavoro del gruppo è Use Me, uscito nel 2020, che include Dead Weight e Gimme a Minute.

I PVRIS, che si sono esibiti sui palchi dei festival più importanti a livello globale come Coachella, Reading and Leeds Festivals e Lollapalooza, sono stati gli opening act di The 1975 e di Florence + The Machine a Milano Rocks.