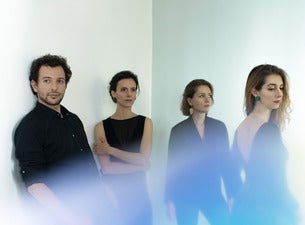 Classical
Pascal, Hennino, Luzzati, Oneto Bensaid Tickets
Events
Sorry... there are currently no upcoming events.
About
The piano quartet was very popular in France in the second half of the nineteenth century. Initially composers were inspired by the works of Mendelssohn and Schumann, but later a typically French form emerged, under the influence of Camille Saint-Saëns and Gabriel Fauré in particular. The piano quartet permits a more flexible approach to composing for four voices than is possible with the string quartet, the serious genre par excellence. So, when Marie Jaëll (1846-1925) decided to set aside her career as a virtuoso in order to devote herself to composition, she naturally turned to the piano quartet, and in 1876 became one of the first women composers to have a work performed at the Société Nationale de Musique. Rita Strohl (1865-1941) followed suit, composing her piano quartet when she was only twenty years old.

Trained at the CRR and the CNSMD in Paris, Alexandre Pascal performs with chamber music ensembles and as a soloist in festivals and concert halls all over the world. He plays a Jean-Baptiste Vuillaume violin from 1852. Graduated from the CNSMD in Paris, Léa Hennino collaborates with many ensembles and orchestras, including the ensemble I Giardini. She plays a Charles Coquet viola made for her in 2014, with a bow by Thierry Doison. Trained at the Conservatoire Supérieur de Paris-CNR and the CNSMDP, Héloïse Luzzati is invited to perform in festivals and orchestras in France and the rest of Europe both in chamber music ensembles and as a soloist. Célia Oneto Bensaid studied at the CNSMD in Paris and the École Normale Alfred Cortot. Female composers occupy an important place in her repertoire, which she performs in concert halls and at international festivals and with her recordings.


Le quatuor avec piano connaît une vogue certaine dans la France de la seconde partie du XIXe siècle. Le genre s'appuie d'abord sur les productions de Mendelssohn et de Schumann, pour ensuite former une production typiquement nationale, notamment guidée par Camille Saint-Saëns et Gabriel Fauré. Il permet d'aborder l'écriture à quatre voix d'une manière plus souple que ne le permet le quatuor à cordes – le grand genre par excellence. Ainsi, quand Marie Jaëll désire mettre de côté sa carrière de virtuose pour se consacrer à la composition, elle se tourne naturellement vers le quatuor avec piano, qu'elle fait découvrir à la Société nationale de musique en 1876. Rita Strohl suit la même voie en composant son quatuor alors qu'elle n'a que 20 ans.

Formé au CRR et au CNSMD de Paris, Alexandre Pascal se produit avec des ensembles de musique de chambre et en tant que soliste dans des festivals et des salles de concert du monde entier. Il joue un violon Jean-Baptiste Vuillaume de 1852. Diplômée du CNSMDP, Léa Hennino collabore avec de nombreux ensembles et orchestre dont l'ensemble I Giardini. Elle joue un alto de Charles Coquet fait pour elle en 2014 et un archet de Thierry Doison. Formée au Conservatoire Supérieur de Paris-CNR et au CNSMDP, Héloïse Luzzati est invitée par des Festivals et orchestre en France et en Europe en tant que chambriste et soliste. Célia Oneto Bensaid étudie au CNSMDP et à l'Ecole Normale Alfred Cortot. Les compositrices tiennent une place importante dans son répertoire qu'elle défend dans des salles et festivals internationaux et dans ses enregistrements.