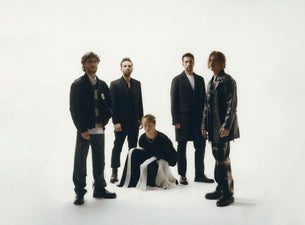 Rock/Pop
Nothing But Thieves Tickets
Events
2/26/24

Milan

Fabrique

Nothing But Thieves

2/27/24

Milan

Fabrique

Nothing But Thieves
International Events
8 Events
2/3/24

Merksem (Antwerpen), Belgium

Lotto Arena Antwerpen

Nothing But Thieves: Welcome To The DCC World Tour

2/5/24

Stockholm, Sweden

Fryshuset

Nothing But Thieves

2/6/24

København V, Denmark

VEGA - Musikkens Hus, Store VEGA

Nothing But Thieves (UK)

2/16/24

Praha 8, Czech Republic

Fórum Karlín

Nothing But Thieves

2/23/24

Amsterdam, Netherlands

Ziggo Dome

Nothing But Thieves - Welcome To The DCC World Tour

2/24/24

Amsterdam, Netherlands

Ziggo Dome

Nothing But Thieves - Welcome To The DCC World Tour

2/29/24

Barcelona, Spain

Sala Razzmatazz

Nothing But Thieves

3/1/24

Madrid, Spain

La Riviera

Nothing But Thieves
About
The Nothing But Thieves are Conor Mason (vocals and guitar), Joe Langridge-Brown (guitar), Dominic Craik (guitar and keyboard), Philip Blake (bass) and James Price (drums). Conor, Joe and Dave were schoolmates and played in several bands in their hometown, Southend-on-Sea in Essex, before founding Nothing But Thieves in 2012. The three young men were later joined by Dom, who had taken guitar lessons since the age of six.

Nothing But Thieves have often been compared to Foals, The Neighbourhood and Civil Twilight. Nothing But Thieves debut EP Graveyard Whistling was released on July, 18 2014 and was preceded by the lead single Itch. In 2015, the debut album Nothing But Thieves came out and was followed by Broken Machine in September 2017. According to the frontman Conor Mason, Broken Machine is a metaphors for all those systems that seem perfect on the outside, but are broken on the inside like mental health, love, religion and politics. Amsterdam, Sorry, Broken Machine, I'm Not Made By Design and Particles were the official singles off Broken Machine.

On October, 19 2018, the British alternative rock band released the new EP What Did You Think When You Made Me This Way? produced by Jim Abbiss (Artic Monkeys, Kasabian, Adele) and mixed by David Sardy (Catfish & The Bottlemen, Oasis, Noel Gallagher, Royal Blood). What Did You Think When You Made Me This Way? was preceded by Forever & Ever More.

Nothing But Thieves' latest work is the album Moral Panic II, released in July 2021. Moral Panic II consists of five new songs, including the first single Futureproof produced by Richard Costey (Foo Fighters, Biffy Clyro). During the same year Nothing But Thieves released the remix of the famous Rag'n'Bone Man's song Alone.