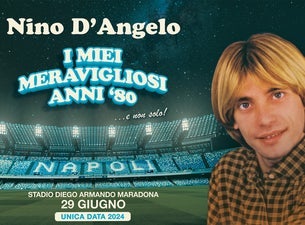 World
Nino D'Angelo Tickets
Events
6/29/24

Naples

Stadio Diego Armando Maradona

Nino D'Angelo - I MIEI MERAVIGLIOSI ANNI '80...e non solo!

Venue

Stadio Diego Armando Maradona
International Events
2 Events
10/25/24

Böblingen, Germany

Kongresshalle

Nino D'Angelo

10/27/24

Mons, Belgium

Théâtre Royal

NINO D'ANGELO
About
Nino D'Angelo, stage name of Gaetano D'Angelo, was born on 21 June 1957 in San Pietro a Patierno, Naples. He grew up in a family of six with a worker father and a stay-at-home mother. From a young age, Nino showed a passion for Neapolitan music, influenced especially by his maternal grandfather. He began to participate in the festival of new voices, quickly becoming a well-known singer in the Galleria Umberto of Naples.

In 1976, with the support of his family, he recorded his first single, 'A storia mia ('O scippo) , which achieved great success and became a drama. Other successes followed, such as L'onorevole, 'E figli d'a carità, and L'ultimo Natale. In the 1980s, he debuted in cinema with films such as Celebrità and reached the peak of success with Nu Jeans e 'na Maglietta, becoming one of the best known representatives of Neapolitan culture.

In 1986, he participated in the Sanremo Music Festival with Vai and signed a contract with the record company Ricordi. He continued his film career with films such as Lo studente and L'Ave Maria. In 1991, he felt the need for an artistic change, abandoning his iconic helmet and writing songs with more varied contents.

In the following years, he released albums such as E la vita continua (1991), Bravo ragazzo (1992) and Tiempo (1993), the latter considered by critics as the breakthrough album. He also devoted himself to film, with roles in films such as Paparazzi and Vacanze di Natale 2000. In the theatre, he proposes operas such as L'ultimo scugnizzo and Terra Nera, appreciated by critics.

In the 2000s, he continued to participate in Sanremo Music Festival and starred in films such as Il cuore altrove (2003). In 2005, he presented the album Il ragù con la guerra. In 2006, he became artistic director of the Teatro Trianon Viviani in Naples. In 2007, he released the album Gioia Nova and performed in a successful theatrical tour.

In 2010, he participates again in the Sanremo Music Festival with Jammo Ja'. In 2013, he organizes an event tribute to Sergio Bruni at the Teatro San Carlo. In 2016, he returned to the artistic direction of the Teatro Trianon Viviani. In 2017, the film Falchi was released, with a soundtrack by Nino.

In 2018, he celebrates his 60 years with the tour Nino D'Angelo 6.0. In 2021, he released the album Il Poeta che non sa parlare and continued to entertain the public with the homonymous tour in Europe.

Nino D'Angelo's career is characterized by a continuous artistic evolution and the ability to combine the Neapolitan tradition with contemporary influences, demonstrating versatility in both music, cinema and theater.