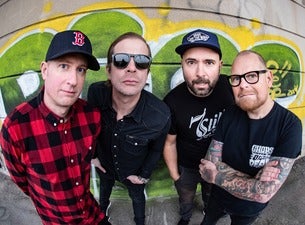 Alternative/Indie Rock
Millencolin Tickets
Events
Bellaria – Igea Marina

Parco Pavese

BAY FEST 2022 - PASS

Bellaria – Igea Marina

Parco Pavese

BAY FEST 2022 - PASS + CAMPING

8/12/2022

Bellaria – Igea Marina

Parco Pavese

BAY FEST - DAY 2 - Millencolin, Satanic Surfers, The Interrupters
About
Millencolin are a punk rock band formed in 1992 in Örebro, Sweden, consisting of Nikola Sarcevic (vocals, bass), Erik Ohlsson (guitar), Mathias Färm (guitar) and Frederik Larzon (drums).

Their name Millencolin comes from a skate trick, the melancholy, also called sad air. Millencolin's first album Tiny Tunes, released in 1994, featured the tracks Mr. Clean, Da Strike and Leona. This successful album was followed by more than 100 performances in Sweden. The following year the second album Life on a Plate was released, featuring 14 tracks including Bullion and The Story of My Life. In September 1995 they began their first tour outside of Scandinavia, performing in Germany, Switzerland, France and England.

The third album For Monkeys was released in 1997, followed by a tour with almost 200 shows in Europe, Australia, Japan, US, Canada, Brazil and Argentina. Once they moved to Los Angeles, they began production on the album Pennybridge Pioneers released in 2000 as well as performing several shows around the world.

Back in Sweden, they worked on the 2002 album Home From Home, the year they celebrated their 10th anniversary. In 2004 they started to try new sounds and write new songs for their sixth album Kingwood, which was followed by the Kingwood World Tour.

The band's latest albums are 2008's Machine 15, 2015's True Brew and SOS released in 2019.