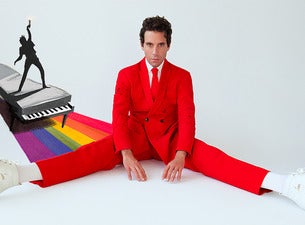 Events
Sorry... there are currently no upcoming events.
About
The Magic Piano Tour of Mika has been rescheduled. Furhter updates about the new shows will follow. If you want, your ticket purchased for the palasport or theatre remains valid for the show on September 19, 2022 at the Arena di Verona. For further information please READ HERE
Mika, stage name of Michael Holbrook Penniman Jr., is a British songwriter with Lebanese origins. Mika has began his career in the music business in 2006 when he was noticed by a discographic on the social media MySpace who helped him to released his famous debut song Grace Kelly.
Grace Kelly was followed by the debut album Life in Cartoon Motion with more than 7 million copies sold all over the world. Mika's debut album also features the songs Love Today, Relax Take It Easy and Happy Ending.
Throughout his career Mika has sold million of copies thanks to the albums The Boy Who Know too Much del 2009, The Origin of Love del 2012, No Peace in Heaven del 2015 e My Name is Michael Holbrook del 2019.
The British songwriter is also famous for his TV apparencies, Mika has been a judge in the Italian X-Factor for the 7th, 8th, 9th, 14th and 15th edition of the show. Mika latest work is the album A L'Opera Royal de Versailles (Live) which includes his live performance from the famous venue in Paris where he has combined pop music and classical music.
In 2022 Mika will be the host of the Eurovision Song Contest in Turin together with the singer Laura Pausini and Alessandro Cattelan.
Relax, Take It Easy: Mika's new tour is here, buy immediately the official tickets!