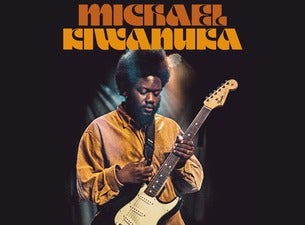 Rock/Pop
Michael Kiwanuka Tickets
Events
7/14/2022

Gardone Riviera

Anfiteatro del Vittoriale - Gardone Riviera

Michael Kiwanuka

Venue

Anfiteatro del Vittoriale - Gardone Riviera

7/15/2022

Florence

Anfiteatro delle Cascine Ernesto De Pascale

Michael Kiwanuka

Venue

Anfiteatro delle Cascine Ernesto De Pascale

7/16/2022

Rome

Auditorium Parco della Musica

Michael Kiwanuka

Venue

Auditorium Parco della Musica
International Events
12 Events
7/8/2022

Hamburg, Germany

Stadtpark Freilichtbühne

Michael Kiwanuka

7/12/2022

Praha 8, Czech Republic

Forum Karlín

Michael Kiwanuka / UK

OSLO, Norway

Tøyenparken

Week pass Øyafestivalen 2022

8/11/2022

OSLO, Norway

Tøyenparken

Thursday Ticket Øyafestivalen 2022

GÖTEBORG, Sweden

Slottsskogen

WAY OUT WEST 11-13 AUGUST 2022

GÖTEBORG, Sweden

Slottsskogen

WAY OUT WEST 11-13 AUGUST 2022 | ACCESSIBLE TICKETS ONLY

8/19/2022

Biddinghuizen, Netherlands

Evenemententerrein Walibi

A Campingflight to Lowlands Paradise 2022

Málaga, Spain

Playa de Sacaba

Andalucía Big Festival by Mad Cool

9/16/2022

Barcelona, Spain

Sala Razzmatazz

Michael Kiwanuka

9/17/2022

Zaragoza, Spain

Sala Multiusos

Michael Kiwanuka

9/19/2022

Madrid, Spain

La Riviera

Michael Kiwanuka

9/20/2022

Madrid, Spain

La Riviera

Michael Kiwanuka
About
Due to the ongoing epidemiological situation caused by Covid-19, the Michael Kiwanuka concerts originally scheduled in July 2020 and then moved to July 2021 have been rescheduled for July 2022 at the same venues.If you already bought tickets, these will be valid for the new corresponding dates. For further information, please READ HERE
Michael Kiwanuka, the British soul talent, is coming back to Italy for three summer dates:
July 14 2022 – Festival Del Vittoriale Tener-a-mente, Gardone Riviera, Brescia
July 15 2022 – Teatro Romano di Fiesole, Florence
July 16 2022 – Roma Summer Fest, Cavea Auditorium Della Musica, Rome
Michael Kiwanuka gives the warm, comforting sound of classic folk, rock and soul a melancholic modern twist — and makes it all feel timeless.
The English singer-songwriter, born to Ugandan parents, grew up in London surrounded by music. He listened to Nirvana and Blur, but became most inspired by Jimi Hendrix, Bob Dylan and Otis Redding. He played in rock bands as a teenager, studied jazz at the Royal Academy of Music and pop at Westminster University. He started making connections in the local music scene, and eventually worked as a session guitarist for English rapper Chipmunk and former Bill Withers drummer James Gadson. Behind the scenes he was working on his own material, writing songs with just an acoustic guitar and recording a few demos.
He began playing some small shows, and got the attention of Paul Butler, the frontman of indie rock group The Bees, who offered to produce his first EP. Soon enough, Kiwanuka got signed to independent label Communion Records, which released his debut EP, Tell Me a Tale, and follow-up I'm Getting Ready EP in 2011. From there, Kiwanuka's career went into overdrive. He signed to Polydor Records, toured alongside Adele and was named BBC's Sound of 2012 winner, all as he prepared for the release of his 2012 debut album, Home Again. The album peaked at No. 4 in the UK and No. 86 in the U.S.
After a whirlwind world tour, Kiwanuka finally released his 2016 follow-up, Love & Hate, coproduced by Butler and Danger Mouse. The album debuted at No. 1 in the UK and featured hit singles "Cold Little Heart" (which eventually became the opening theme for the HBO series Big Little Lies) and the title track. After another few years, he returned with the disco-infused single "Money," a collaboration with Tom Misch.
You can't miss the Italian shows of Michael Kiwanuka, buy immediately the official tickets!