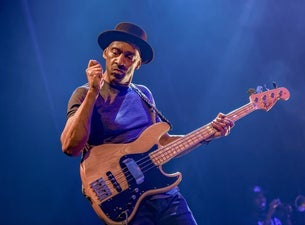 Jazz/Blues
Marcus Miller Tickets
Events
Sorry... there are currently no upcoming events.
About
Forty-five years of career, 2 Grammy Awards and the Dutch Edison Award for his entire work: these are just some of the awards attributed to Marcus Miller around the world, to which are added collaborations with the greatest jazz, from Miles Davis to Herbie Hancock. Marcus Miller made history as one of the greatest jazz bass players in the world. In addition to the electric bass, Marcus Miller plays clarinet, bass clarinet, keyboards, soprano saxophone and guitar.

Defined as one of the most influential artists of our time, Marcus Miller rose to prominence as the bassist of Miles Davis' band in the 1980s. Known for his fluid improvisation skills and his inclination towards funky and contemporary jazz, his distinctive style is characterized by a unique combination of funk, groove, soul. In his career, Marcus Miller was selected as a UNESCO Artist for Peace, also becoming a spokesperson for the Slave Route project. Bass Player Magazine also listed him as one of the ten most influential jazz musicians of this generation.

Marcus Miller has been nominated many times at the Grammy Awards as a producer for Miles Davis, Luther Vandross, David Sanborn, Bob James, Chaka Khan and Wayne Shorter and won 2: the Grammy Award for Best R&B Song in 1992 for Power of Love, written for Luther Vandross, and the Grammy Award for Best Contemporary Jazz Album in 2001 for his fourth instrumental album M². In 2015 his album Afrodeezia earned a nomination for Best Contemporary Instrumental Album.

In addition to his career in the studio and on stage, Marcus Miller also composed music for film soundtracks starring such actors as Eddie Murphy, LL Cool J, Chris Rock, Matthew Perry, Samuel L. Jackson and others.

Anyone who has listened to Marcus Miller's music or attended his live concerts knows that he will be faced with a truly extraordinary experience: the powerful sound of jazz/funk bass is manifested in all its strength with a music that can cross boundaries, bringing jazz to new levels.