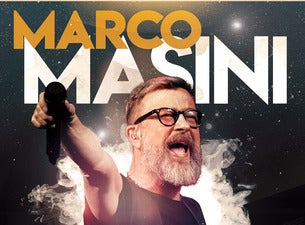 Rock/Pop
Marco Masini Tickets
Events
Italy
There are no upcoming events in Italy
Don't worry, there are other events available below
International Events
2 Events
11/3/23

Mons, Belgium

Théâtre Royal

Marco Masini

11/5/23

Brussels, Belgium

Cirque Royal - Koninklijk Circus

Marco Masini
About
Marco Masini is one of the most famous Italian singers and songwriters all over the world. The artist debuted with the band Errata Corrige during high school but followed his solo career as soundtrack composer and concert performer. In 1986 Masini collaborated at the song Si Puo Dare Di Più presented at Sanremo Music Festival by the trio Morandi, Ruggeri and Tozzi.

Marco Masini debuted in 1990 at Sanremo Music Festival with the song Disperato ranking first in the category "Giovani". Disperato was followed by the homonymous successful album Marco Masini, with more than 800,000 copies sold.

Among the most famous songs of Marco Masini, we can recall Vaffanculo and T'Innamorerai included in the homonymous album of 1993, Principessa and Bella Stronza from Il Cielo della Vergine of 1994, Raccontami di Te from the homonymous album of 2000 and L'Uomo Volante from Masini of 2004.