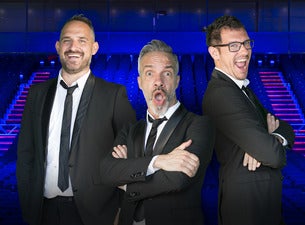 Comedy - Arts & Theater
Marco e Pippo Finalmente Live Tickets
Events
7/9/2022

Lancenigo

Arena della Marca c/o Ippodromo Sant'Artemio

Marco e Pippo: finalmente live! Estate 2022

Venue

Arena della Marca c/o Ippodromo Sant'Artemio

7/14/2022

Mirano

Piazzale Impianti Sportivi

Marco e Pippo: finalmente live! Estate 2022 - MIRANO SUMMER FESTIVAL

Venue

Piazzale Impianti Sportivi

7/27/2022

MARCO E PIPPO: FINALMENTE LIVE! ESTATE 2022

7/30/2022

Rosolina

Rosolina Beach Festival

Marco e Pippo

Venue

Rosolina Beach Festival

8/6/2022

Lignano Sabbiadoro

Arena Alpe Adria - Lignano Sabbiadoro

Marco e Pippo: finalmente live! Estate 2022

Venue

Arena Alpe Adria - Lignano Sabbiadoro

8/12/2022

Asiago

Asiago Live

Marco e Pippo Finalmente Live! Estate 2022!

8/19/2022

Feltre

PalaFeltre

Marco e Pippo: finalmente live! Estate 2022
About
Due to the Covid-19 health emergency, the Marco e Pippo 'Finalmente Live' shows originally scheduled on January, 15-16-17-22-23-24 2021 at Gran Teatro Geox in Padua have rescheduled for December 2021 and January 2022. If you already bought tickets, those will be valid for the new corresponding dates. For further information, please READ HERE
"Marco e Pippo: Finalmente Live!", the only duo that is a trio, is launching a new project that looks to the future from a unique perspective!
The comedians Marco Zuin, Filippo Borille and Gaetano Ruocco Guadagno have been writing and performing 13 comedy shows since 2006, with a busy calendar of 70 dates a year in the last 10 years.
"Marco e Pippo: Finalmente Live!" is a new comedy show involving several actors and musicians, including the director Enrico Lando ("I soliti idioti"), the showgirl Ariadna Romero and the actor Francesco Paolantoni. This is pure and immediate comedy that always comes from studying and listening to everyday life stories, enriched with a deep message aimed at the audience.
In this cabaret theatre show, the three talented comedians have mixed Italian and Venetian dialect to coin a new fascinating comedy language and created an artistic path in line with modernity and new trends.
You can't miss the duo's clean and immediate style of comedy made of improvisation, music and Venetian dialect!